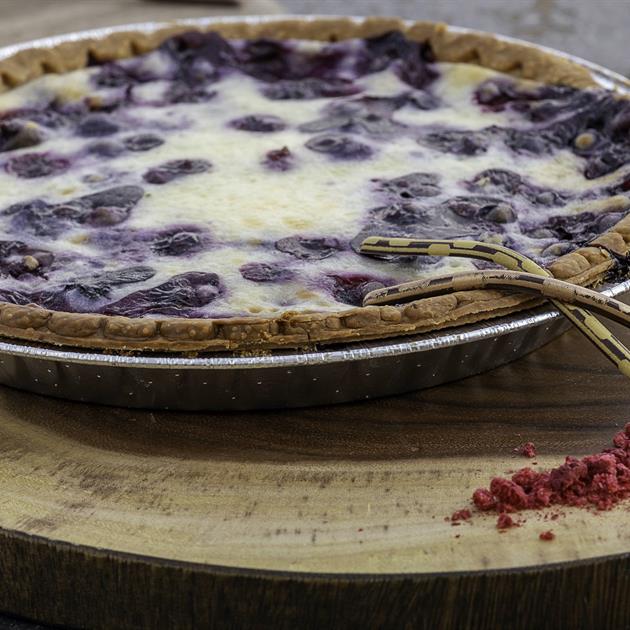 THE GLORIOUS BLUEBERRY - COOKING WITH THE QUINTESSENTIALLY MUSKOKAN INGREDIENT
Article by Karen Wehrstein/ Photography by Tomasz Szumski
Blueberries! We love to pick them, buy them, eat them. There's blueberry everything – jams, tarts, muffins, pancakes, yogurt and even chocolate-coated blueberries. You can drink blueberry tea, sip blueberry wine and use them in creative ways, even in mostly savoury dishes. What's not to love?
You might even have memories of them. Clambering up a stony outcrop, finding a friendly patch of the woody little plants, spotting amongst their green the tiny spots of unmistakable blue, each one a beckoning promise of that inimitable burst of sweetness in your mouth.
Native to North America, the plant is found in two varieties, the more productive high-bush blueberry and the hardier low-bush blueberry. High-bush blueberries have been cultivated in Ontario since 1976, according to Foodland Ontario, and are a good source of fibre and Vitamin C, which should offset your sugar-guilt some.

Our blueberry tour starts at Muskoka Lakes Winery and Farms, a place historically more famous for cranberries, but which has its own Blueberry Hill (and yes, co-owner Wendy Hogarth does think she had the song in the back of her mind when she named it).
The winery's philosophy is to use what grows naturally in the place Hogarth, her husband Murray Johnson and their children love: Muskoka.
"Blueberries and cranberries are Muskoka's only native-grown fruits," she says. "Blueberries grow all over the farm, but they're hard to harvest." Hence for about five years, the family has been experimenting with blueberry cultivation on the hill, looking at hardy, high-bush and half-high (hybrid) varieties. Blueberry Hill is part of the winery tour.
The winery's first blueberry-sourced product was, of course, wine, starting out with Cranberry Wine in September 2001 and followed with Cranberry-Blueberry Wine the same December, to a fast sell-out. These and other vintages – all created from cranberries and blueberries – have won numerous national and international awards.
"The French have a term in wine-making, 'terroir'," says Hogarth. "It means that wine should be an expression of the region in which it's grown. The land should be expressed in it." This is, perhaps, why the winery's blueberry vintages are particularly popular in parts of Ontario further north, such as Sudbury and North Bay.
Blueberry Wine is an "off-dry, with sweetness forward, a dry finish and a richer, fuller mouth-feel," says Hogarth, who is a certified sommelier and continually experiments with styles and blends. Cranberry-Blueberry Wine, she notes, "balances the lively tartness of cranberries with the delicate sweetness of blueberries." It's selling wine that allowed the business, originally devoted purely to growing cranberries, to open year-round.
Other wines of the Muskoka Lakes label include Muskoka Red, a dry red blueberry wine comparable to a Merlot, and, coming this fall, a new port-style dessert wine, Portage, whose label will display a man with his canoe on his shoulders. "It has some aging (2017 to be exact), some complexity, some oak," says Hogarth. Other blueberry beverages coming out this year: a cider and a spritzer.
If you're a teetotaler and thinking there's something blueberryish for everyone but you, you'd be wrong. The making of cranberry and blueberry preserves on the farm started with Murray Johnson's mother, June, who produced them full-time for a time. Now the winery offers multiple wine jellies and a cranberry/blueberry jam whose other ingredients are water, sugar and – quite possibly the ingredient that makes it – lemon juice.
Oh and, as if all that's not decadent enough, at the winery you can buy a snack that combines what might be your two favourite flavours in the world. Yes, we do mean chocolate-covered blueberries. Life doesn't get sweeter than that.
In search of a savoury dish incorporating blueberries, we (virtually) stopped by the renowned Huntsville restaurant, 3 Guys and a Stove, where owner and chef Jeff Suddaby creates complex and well-seasoned dishes. It re-opened for curbside pick-up on May 29; check its website for whether it's open for sit-down now. Also opened on that day was its new next-door On Focaccia Food Truck, which serves typical food-truck fare – breakfast omelettes, lunch and dinner sandwiches, burgers, etc.—but with a difference: it's all on focaccia bread.
Suddaby grew up on a farm in Simcoe, Ontario, and so was raised on homegrown veggies and meat. He became a precocious cook after his parents moved to their cottage near Huntsville, and his uncle John Eberhart, who was a chef at Deerhurst Resort, took him under his wing. "By the time I'd graduated high school, I had my chef's papers," he recalls. By his late teens, he was running the Deerhurst kitchen.
After taking some business courses, Suddaby moved to Guelph where he personally cooked for the president of the University of Guelph and helped produce a banquet for Canada's first Prime Minister named Trudeau, Pierre. From there, Suddaby returned to Deerhurst to work as executive chef, then opened the uptown Toronto restaurant The Daily Planet in partnership with Tip Top Tailors owner Ben Dunkleman.
Suddaby's next project was to start a restaurant franchise business that opened outlets from Montreal to Burlington, all owned by pro hockey players, then finally started his own restaurant upon making the move back to Huntsville: The Navco Diner.
"That was fun food," he says. "I wanted to do something a little higher end. So, I sold the Navco and started 3 Guys."
That was in 1996, and Suddaby has never looked back. In a successful bid to publicize the fledgling eatery, he wrote two cookbooks, copies of which you can still buy there, and became a TV personality, hosting Who's Coming for Dinner, a nationally-broadcast cooking show on Global TV, for nine years. His schedule included travelling all over Ontario for shoots and cooking workshops for the sponsor, Loblaws.
"It was fun, but my family suffered," Suddaby admits. Accordingly, he has settled down, though without ruling out another kick at the TV can in the future.
"It's nice living in Muskoka. This is the first time I've got to really enjoy it a little bit."
Suddaby's savoury blueberry-incorporating curry dish has its roots in his working with an Indian chef in Toronto who was "all about spices," so that Suddaby had to calm down his own curry blend to please the Canadian palate (and you can use store-bought curry). Otherwise, it's traditional. "Multi-level flavouring is very typical of Indian cuisine," Suddaby says.
"You get the spice offsetting of the sweetness of the natural fruit, mixed with the vegetables. It's lovely." If you'd like, you can substitute pan-seared chicken, lamb, or scallops for the shrimp. You can also add cayenne for however much of the Indian smoke-coming-out-of-your-ears approach as you dare.
Blueberries are more typically an ingredient for desserts, so we turned to Chef Sean Crymble of JW Marriott The Rosseau Muskoka Resort & Spa for one. The Rosseau, incidentally, also re-opened on May 29.
Crymble, born in Toronto, also was introduced to cooking at a tender age. As a pre-teen, his father asked his son and daughter to help him give their mother a night off by cooking Sunday dinner, even if it was a simple as a can of soup or spaghetti.
"My favourite was fondue, as my family had been doing it for years," Crymble recalls, which seems a clear indication that he would inevitably become a chef. "I got my own fondue pot for Christmas one year. We'd go to the St. Lawrence Market, pick up some beef, chicken, pork, a fresh loaf of bread and salad." His dad also taught him an interesting savoury French toast, using eggs and milk combined with garlic and garlic powder as the batter, and ketchup as the seasoning.
Uninterested in following said dad into the insurance business, Crymble worked at a restaurant in Meadowvale during his final year of high school, then landed a three-year apprenticeship in the kitchen at Delta Hotels Meadowvale, while acquiring his culinary education at Humber and George Brown Colleges.
Upon completion, he hit all the hotels on the Pearson Airport strip with job applications, the Marriott asked for an interview, and he has been with the Marriott chain ever since. From the Airport Marriott, he worked stints of some years in the Marriott in Boston and the Marriott in Palm Springs, California. After the death of his father, he decided to return to Canada, and was offered a job at the first Marriott in Canada, the JW Marriott The Rosseau Muskoka Resort & Spa in Minett.
Like many in the GTA, Crymble had connections with cottage country from childhood.
"I had come up for summers in Parry Sound," he reminisces. "I can remember taking a boat to the Rosseau General Store. Muskoka's great. We've got the beautiful wilderness, open spaces, fresh air and water."
Asked to come up with a blueberry dessert, Crymble dug into old family recipes, and found a gem. You've got the option of doing it without the topping. In both, the filling is rich and creamy and bursting with sweetness. There's a certain depth to the flavour that comes from the almond extract and the minute amount of salt. With the topping it's even better, due to the additional classic flavours of pecans and lemon, and again a not-quite-directly-taste-able soupcon of seasoning in the cinnamon.
Oh, and blueberries, of course. You can't go wrong with them.