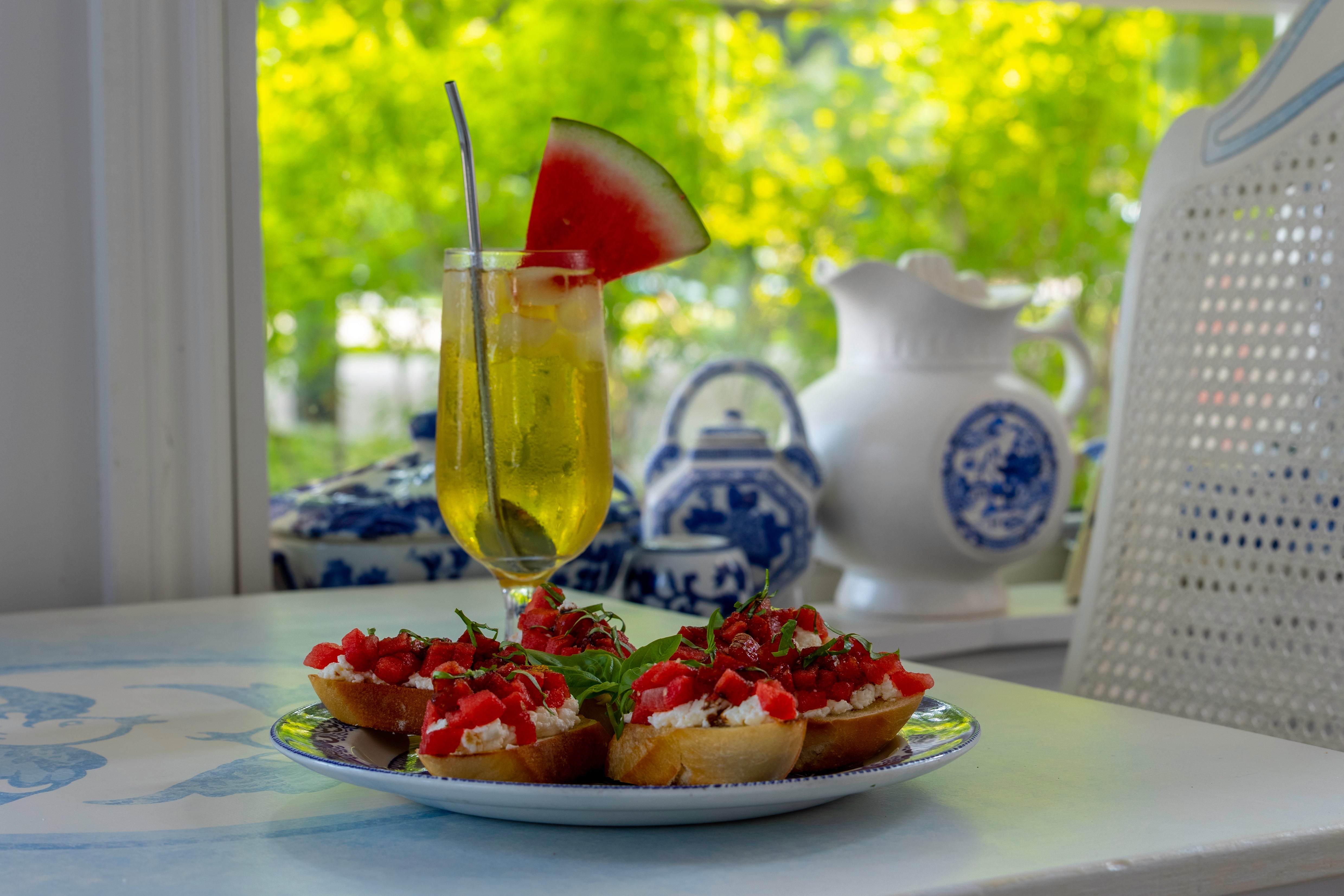 Hot Days, Cool Meals – No stove necessary
Article by K.M. Wehrstein / Photography by Tomasz Szumski
It's a beautifully sunny but sweltering day in Muskoka. Mealtime is near and you want to stay out of the kitchen because you can't stand the heat.
Pity the poor food-preparers of Muskoka, who cannot escape slaving over a hot stove! Except when they're making the sorts of dishes that don't require the hot stove. With their knowledge of how to keep it cool, a few have seen fit to share their secrets so you can keep the stove off while the weather's hot.
We will start at the Blue Willow Tea Shop in Gravenhurst, which is a place like no other. It's right next the Muskoka Wharf dock, with a clear view of the steamships. The décor is thoroughly British, from the Union Jack flags in the planters to the special display offering tribute to the late Queen. It is a celebration of all that is ornate, matching and fine, so much that they'll flavour your glass of water with pineapple and cinnamon sticks and put a doily in the container for your leftovers. The shop is spectacularly lined with precisely arranged tea sets of every colour and style; some for sale, others are investments on display.
Originally established in 2006, Blue Willow is now owned by Alison McKinnon and Pamela Harris, who met as co-workers in management at a Muskoka resort in 2017.
"We were doing events together," Harris recalls, "and thought 'let's start our own thing'." On a whim they had lunch at Blue Willow in December 2018, found out it was for sale, saw the potential and bought it in time to open in March 2019.
When disaster struck the hospitality field a year later, the partners had to scramble to survive businesswise. "'Pivot' was a word we used a lot," says Harris.
"Every time a rule changed, we adapted," McKinnon adds. "We increased our retail because you could be a store but not a restaurant – then decided we love it so we're not getting rid of it."
Their virtual store on the arts and crafts site Etsy helped them weather COVID-19 and become known as a source for fine china. "We ship all over the world," says Harris, naming Norway, Saudi Arabia, Turkey, Australia, Japan and Spain in addition to all over Canada and the United States.
"COVID-19 pushed us to where we are today," says Harris. "It got us to where we wanted to be. In a weird way, we're grateful."
Open year-round, the tea shop does a special Christmas high tea and a French-themed Valentine's Day one but, says Harris, "Our most popular day is Mother's Day. We are always sold out. It's a wonderful weekend here, a lot of happy people."
For summer, Blue Willow partners with Muskoka Steamships to offer high tea afloat on their historic vessels. "We have a lot of celebrations here," says McKinnon, since you can rent the shop for wedding showers, baby showers, anniversaries, retirement parties and the like. Blue Willow also offers take-out and catering services.
The high tea menu is changed every month, with a different theme, such as "Strawberry Fields" (June) which included the strawberry bruschetta included below, and "Tastes of Muskoka" (July) which included butter tarts with maple syrup. Tea service is all delivered on an elegant three-tier tray.
"On the bottom is sandwiches and savouries," Harris explains. "We try to stick to some classics—cucumber with cream cheese is standard—but infuse the themes. The second level is different scone flavours with imported Devon cream. The top level is a selection of little desserts." Original items are created by inspiration, trial and error, drawing on cuisines such as Greek and Italian.
Accompanying all this, of course, is tea. With the watermelon bruschetta, Harris and McKinnon paired Blue Willow Watermelon Oolong, which is quite the amazing experience. The tea's flavour separates out and features the non-sweet aspect of watermelon's taste, providing something entirely familiar and yet utterly new at the same time.
With both bruschettas, the herbs and the cheeses are equally cogent in combining with the fruit to create the full effect, and texturally they still provide the crusty/moist foiling that bruschetta is so loved for, for an all-over delicious experience.
"We want every bite to taste amazing," says McKinnon. "You leave feeling full – it's a generous amount of food – and everyone gets to taste something good."
Dominic Grimaldi, executive chef at the Bigwin Island Golf Club, recalls his very first memory of cooking: "the smell of garlic and onions in a frying pan. I started drooling like Pavlov's dog."
It will not surprise you, then, to hear he is a first generation Italian Canadian. "Food has always been a big part of our lives," Grimaldi reminisces. "It's an integral part of an Italian family. We made tomato sauce and preserves, my dad made prosciutto… the main ingredient is love. You feed your family because you love them. My grandmother rolled fancy pastas because she loved us."
As a youth in Toronto, Grimaldi started out working the front of the house but, because he so enjoyed cooking for family and friends, he decided to pursue a career in it, attending Humber College and George Brown College, then apprenticing under an award-winning chef in Toronto. After an eight-month sojourn in Italy, specifically Tuscany and Genova, where he learned much from Italian chefs, he returned to Toronto to cater for crowds ranging from 10 to 5,000. Currently he's in his fifth summer at Bigwin.
Grimaldi, who first connected with Muskoka as a teen, visiting to fish and spend time with friends, explains its draw: "Natural beauty, fresh air, nature, wildlife. This island in particular is pretty special. It's scenic, and the members are amazing people, very supportive; they love the food. People up here are chill. In the city there's always a place to go; everybody here is where they need to be."
Grimaldi expounds on his culinary philosophy: "Using fresh ingredients, as much local as possible, cooking within the seasons and making people happy with food. When someone comes to my house, I feed them; that's how I grew up."
"I'm Italian, my style is Mediterranean, lots of olive oil, tomatoes, olives," he says—but adds that he still looks to other cuisines for inspiration. "I love all kinds of food. We live in a multicultural society and every culture has a great dish. For me recipes are sort of like having a brainstorming session: how can I tweak it, how can I make it better."
Grimaldi's lamb feta burger with grilled vegetables is a "simple take on the burger," in his words. His take is a memorable one. First of all, it's made of ground lamb. Second, well, let's defer to his own description. "It's rustic but elegant at the same time; the flavours go well together. Anything grilled with grilled lamb is great. Goat cheese and feta cheese with lamb is a match made in heaven."
"I had the recipe in my back pocket for a long time," says Grimaldi, who has been an executive chef since 2008. "I introduced it in my first year here. It's a great summer burger."
How was the audience reception? "It's now the signature burger of the island, very popular with the members. I can't take it off the menu. If I do, people ask where it is."
Like any Italian, Grimaldi knows the deep connection between food and happiness.
"If you want good food," he says, "you have to have happiness in your soul."
Lamb Feta Burgers
– Dominic Grimaldi
To roast garlic
Cut a whole head of garlic in half, exposing the cloves inside their skins. Cut a 12-inch square piece of aluminum foil and pour 50 ml of olive oil onto it. Season the two halves of the head with salt and place flat, cut sides down, on top of the olive oil. Bring corners of foil together to form a pouch. Place on grill on medium heat for 30 to 40 minutes. When done, garlic should be brown and soft to the touch. When cool, squeeze each half and the half-cloves should come out easily. Use the broad side of a chef's knife to smash garlic to a pulp.
To make the burgers
Ingredients
500 grams Ontario ground lamb
100 grams feta cheese
1 Tbsp Dijon mustard
1 egg
½ bunch flat-leaf parsley
½ bunch cilantro
1 tsp ground cumin
1 clove roasted mashed garlic
100 grams goat cheese
Method
Combine all ingredients except the goat cheese in a large bowl. Mix well by hand and form four balls of equal size.
Place on flat surface and press firmly with palm to make patties. Season with salt and pepper.
Cook on clean hot grill until medium to well done.
Place 25 grams of goat cheese on each patty after the last flip.
To make the grilled vegetables
Ingredients
1 yellow zucchini squash, cut at a 45-degree angle into ¼-inch pieces
1 green zucchini squash, cut at a 45-degree angle into ¼-inch pieces
1 small eggplant, cut into ¼-inch circles
1 red bell pepper, with stem and seeds removed, cut into bite-sized pieces
Method
Season all the vegetables with salt and toss with olive oil.
Use the grill to cook all the above ingredients.
Place a piece of each vegetable on each burger. Toast favourite burger bun on the grill and enjoy.
Yield: four burgers.
Wine pairing: Cabernet or full-bodied Shiraz.
Chef's Tips
Make sure the grill is hot so that you can actually make grill-marks. "Cold grills boil meat."
Always season with salt and pepper before grilling, even 20 minutes before, if possible, as that brings out the flavours. "People think salt will dry it out. It's the exact opposite."
"I like feta cheese in it to make it kind of creamy, and cumin for the Mediterranean taste. I like roasted garlic because it's toned down, not sharp as when it's raw."
Watermelon Feta Bruschetta 
– Alison McKinnon and Pamela Harris
Ingredients
1 French baguette cut into 1-inch angled slices (toasting optional)
1 cup feta cheese crumbles 
2 tablespoons of heavy cream
2 cups of fresh seedless watermelon, diced into small cubes
3 tablespoons of fresh basil, chopped
3 tablespoons of balsamic glaze
Method
Cut baguette on an angle to make 1-inch-thick slices. You should get about 20 pieces. 
Dice watermelon into tiny pieces. 
Blend feta and whipping cream until smooth. 
Spoon feta cheese/cream mixture onto baguette, about 1 tablespoon. 
Top with a generous amount of watermelon. 
Drizzle with balsamic glaze. 
Finish with a sprinkle of fresh basil. 
Tea pairing: Blue Willow Watermelon Oolong (slice of watermelon as garnish, optional)
Strawberry Ricotta Bruschetta
– Alison McKinnon and Pamela Harris
Ingredients
1 French baguette cut into 1-inch angled slices (toasting optional)
1½ cups whole-milk ricotta cheese
2 pints of fresh Ontario strawberries, hulled and diced into small cubes
3 tablespoons of fresh mint, chopped
3 tablespoons of balsamic glaze 
Method
Cut baguette on an angle to make 1-inch-thick slices. You should get about 20 pieces. 
Core strawberries and dice into tiny pieces.
Spoon ricotta cheese onto baguette, about 1 tablespoon. 
Top with a generous spoonful of strawberries.
Drizzle with balsamic glaze. 
Finish with a sprinkle of fresh mint.
Tea pairing: Blue Willow Strawberry Rooibos.