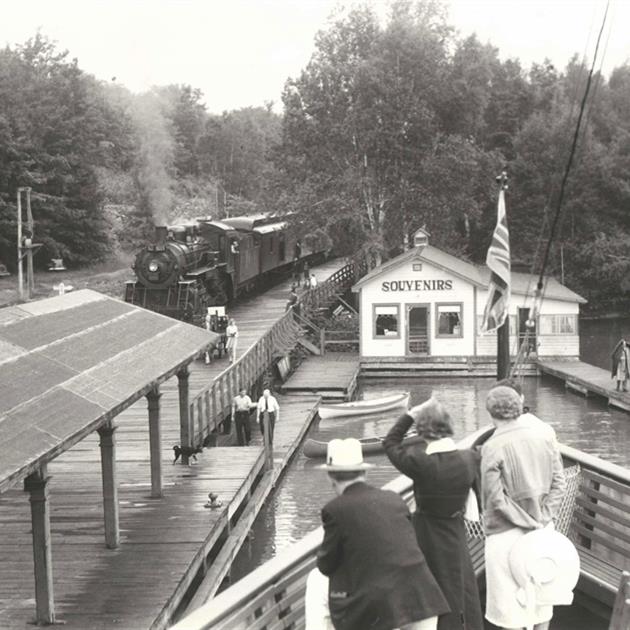 MUSKOKA RAIL SERVICE - A TIME-TRAPPED SAGA
The current interest in restoring passenger rail service to Muskoka, specifically the Northlander between Toronto and Cochrane with stops at Gravenhurst, Bracebridge and Huntsville, is sparked by travellers' needs and aching feelings of loss. This is not new. The saga of railways in our district is a tale of beginnings and endings.
The first train service to Muskoka crossed into Morrison Township at Severn Bridge. Railway service reached Gravenhurst, with a spur line out to Muskoka Wharf, by late 1875. Then everything stopped.
For a full decade, Gravenhurst's movers and shakers succeeded in holding onto their competitive advantage, combining Muskoka's railway terminus and steamship harbour at the foot of Lake Muskoka. A letter between lumbermen and the railroad company confirmed there'd be no northern extension (that is, to Bracebridge and beyond) for 10 years. Straddling the culmination of one transportation system (steam trains) and the starting point of another (steam boats) gave the town a monopoly lock on economic prosperity.
Gravenhurst from 1875 thrived as a transshipment centre for people and goods. Beneficiaries of this transfer business – to and from horse-drawn coaches and wagons travelling up and down Muskoka Road year-round and, during navigation season, adding steamships plying to and from Bracebridge, Bala, Port Carling, Windermere and Rosseau – were Gravenhurst's hotels, taverns, stores, livery stables, blacksmiths, warehouses, teamsters, captains, crews, engineers and labourers.
Within just two years, 2,800 tons of rail freight was arriving each summer at Muskoka Wharf and A.P. Cockburn, shrewd owner of steamships and lumbering operations, gleefully built more warehouse sheds to accommodate rapidly rising storage needs. Muskoka lumbermen, with rail connections to outside markets and a decade of fixed operations, encircled Gravenhurst Bay with saw mills, new prosperity, more jobs and mountains of sawdust.
Preventing extension of the railway northward was only a temporary victory for the district's senior town because Muskoka, inextricably part of a larger community, was moved by larger forces. In 1871, British Columbia agreed to join Confederation if a transcontinental railroad linked east and west. Prime Minister John Macdonald wanted an "all-Canadian" route. Though costing more than a rail line running south of Lake Superior through Wisconsin and Minnesota to circumvent the Canadian Shield, it would ensure national security and independence. But the "Pacific Scandal" over the governing Conservatives getting secret kickbacks from the railway contractors to finance election campaigns drove Macdonald from office. Canada's first Liberal Prime Minister, Alexander Mackenzie, elected in 1874, took up the railway challenge.
His idea was to not lay down a single uninterrupted track but instead run a series of rail lines between intermediate water bodies, as proposed by the Department of Railways and Canals, whose leading lights saw how canal systems made use of available rivers and lakes. Thus, in Muskoka, with the railway already built to Gravenhurst, Mackenzie's plan was that the next leg would be by steamship to the top of Lake Rosseau, so railway tracks would only need to run from there to the shore of Lake Nipissing, where another transfer could leap ahead on that lake to the next section of track beyond. This plan took no account of transshipment costs (in time, money and inconvenience) at each leg of this cross-Canada relay line. Nothing was said about cost-savings from building less track being gobbled up buying more trains and engines for each of the stranded short segments, or even how to transport the heavy rolling stock, especially the engines, to them. Nor did the Liberal plan address frozen lakes in winter.
At their next opportunity, in 1878, voters returned Macdonald to office to resume his political drive for the Canadian Pacific Railway and by 1885 it bound the country together "from sea to shining sea."
These larger forces kick-started Muskoka's next railroad phase. Train service north from Gravenhurst reached Bracebridge that same year, with the 10-year moratorium ended and a big push underway to join other rail lines (planned or being built) to Baysville, through Algonquin Park for lumbering, and especially connecting with Ottawa Valley transcontinental lines (coming from the Maritimes through Quebec) at North Bay. It seemed Muskoka could become a major railway hub or at least a main artery between Canada's transcontinental and northern routes and southern Ontario, and northern United States rail lines.
From 1885, Bracebridge started a new era of prosperity, linked directly by rail to the larger universe. Cow hides from distant Argentina, after reaching Halifax by ship, arrived at the town's two sprawling leather tanneries. Woollen products from Henry Bird's mill, as well as "Muskoka Lamb," and more lumber, flowed readily to Canadian, American and British Empire markets.
Railway tracks bringing vacationers from southern Ontario and the United States to Muskoka had, all the while, inaugurated a transformative stage in district life. Hunting parties, fishing groups and individuals seeking a northern experience found all they hoped for on the district's scenic southern edge of the Canadian Shield – despite the ugly scars of clear-cutting forestry – and the Muskoka Cure was born. Early railway advertisements promoted Muskoka as "A woodland region abounding in lakes and streams, affording every variety of fishing and game – black bass, rock bass, pickerel, maskinonge, brook and salmon trout. Sportsmen can obtain on the spot guides, boats and canoes to all points. Excellent summer hotels at Bracebridge, Port Carling, Rosseau, Port Cockburn." Farmers' homesteads abutting lakefronts soon morphed into hostelries, then lodges, next resorts.
By 1889, when the rail line was pushed through to Huntsville, its route caused more beginnings and endings. Thriving Port Sydney boasted a gristmill, oatmeal mill, sawmill, sash factory, cheese factory, hotel accommodations and was home port of the steamer Northern, running passengers and freight between Mary Lake, Huntsville and Hoodstown. The village was primed to become the centre for north Muskoka, with the railway coming through. But a change of route put the train service through the small settlement of Utterson, to its west, instead. Gaining a station, Utterson rose to new prominence while Port Sydney paled.
Further north, at the west side of Lake Vernon, Hoodstown bustled along well laid out streets with good homes, two hotels, three churches, a livery stable and smithy, three general stores and post office. Founder Charles Hood had insider information that a planned railway would cause his town to surge to even greater prosperity. However, a different company built its rail line to the east, crossing the Muskoka River at the narrow point where John Hunt had started his settlement. The route was well chosen, because at Huntsville the railway intersected the river's connections to the entire north Muskoka lakes system. This further round of endings and beginnings in Muskoka's railway saga saw Hoodstown empty out and Huntsville emerge as Muskoka's largest town, prospering on leather tanning, lumber milling and vacationing – each directly linked to rail service.
Politics and economics meshed with bold dreams and hard choices in Muskoka's ever-changing railway landscape, as the train to Baysville reminds us. The Bracebridge and Trading Lake Railway Company had been incorporated, its directors elected and officers chosen, and start-up money provided by the Ontario Government, to not only run a line 14 miles east to Baysville but also 10 miles west to Beaumaris, linking all major lake systems with an east-west line on which Bracebridge, already central in the district, would be hub. Beaumaris Wharf with its train terminal would give Muskoka Wharf at Gravenhurst competition, while the railway terminal at Baysville Wharf would pull that hinterland into Bracebridge's orbit as well.
Another company, the Huntsville and Lake of Bays Navigation (Railway) Company was also incorporated to link the Grand Trunk Railway system with Lake of Bays as "gateway to the tourists' and hunters' paradise." Other railroad companies, too, were proposing train service to Baysville, one of them a radial line from Gravenhurst.
In March 1915, Baysville's correspondent for the Bracebridge Gazette touted a new tourist resort, the busy lumber mill and the coming of hydro-electricity, only to sideline such progress by concluding "but the railroad is what we've been waiting for, for the last 20 years."
Despite early work clearing the roadbed for the Bracebridge-Baysville line, it remained a phantom but propelled action from Huntsville. After discovering a canal for steamboats could not economically be built between Lake of Bays (Trading Lake) and Peninsula Lake, the company fashioned the world's shortest commercial railway instead. Humorously dubbed "The Portage Flyer" because it crawled so slowly – passengers enjoyed descending to pick wild strawberries alongside the steeply ascending track then remounting to struggling "Flyer" to eat them – the railway began operating between North Portage and South Portage in 1904.
On the west side of the district, meanwhile, the village of Bala was booming, thanks to railways operating with commuter-train frequency. In 1907, the Canadian Pacific Railway opened a vacationers' "summer station," complete with freight elevator, to supplement its year-round station further up the line.
By the 1920s, the CPR was running four trains in and out of Bala every day during the summer. Competitor CNOR (Canadian Northern Ontario Railway) was also serving Bala, with its own summer schedule to Bala Park Island. This excellent train service brought the big name entertainers to happily perform at Bala. With so many musicians, tourists and cottagers detraining from the United States, Ottawa deemed Bala a port-of-entry and opened a convenient customs clearing house.
When highways and automobiles ousted passenger trains in the 1950s, weekend train service to Bala continued until 1963. Train tourism continued to benefit north Muskoka, too. Enterprising Huntsville resort operators extended the vacation season by actively promoting special ski excursion trains from the United States.
Even so, as the postwar era advanced, the Government of Canada put its resources into civil aviation with new and bigger airports. The Government of Ontario put its resources into bigger and better highways, and a vast transcontinental country with few people discovered it was no longer possible to sustain three completely different transportation systems for rail, road and air.
Canada's canal systems had already come to its end, except for tourism. Ottawa heavily subsidized passenger rail travel until, in the 1980s, Transport Minister Don Mazankowski, repeating his mantra "Use it or lose it!" reduced or eliminated passenger service. As an MP at the time, a constituent upbraided me about how terrible this was. I explained that a train traveller spent $18 for a ticket, while taxpayers topped up the rest of its $640 actual cost.
"But the trains are special," she protested. "My husband and I went to Quebec City by train for our honeymoon!"
"When was that?"
"1948."
"Have you been on a train since?"
Sotto voce:"No.
Mail service by train is another time-trapped element in this saga. Railway and shipping companies vied for postal contracts. At least twice a day (except Sundays), trains through Muskoka included mail cars on which postal workers sorted mail whilst in transit, dropping off at Gravenhurst, Bracebridge and Huntsville the letters, subscription newspapers and parcels for each community and its hinterland post offices, picking up large canvas bags of outgoing mail.
Mail service to Muskoka's main lakes was twice a day. The Huntsville and Lake of Bays Navigation Company got the mail contracts for Muskoka's upper lakes and the Gravenhurst Steamships line the contract to pick up and deliver mail, morning and afternoon during navigation season, to communities and resorts around lakes Muskoka, Rosseau and Joseph – explaining why the reinstated .Segwun has the designation "Royal Mail Ship," or RMS Segwun. Those days, too, are gone, not to return. Passengers aboard the Segwun today can personally send and receive mail 24 hours a day, to and from anywhere in the world, from a personal hand-held device.
These beginnings and endings for railway passenger and mail services exclude freight train service, which continues to prosper. Today, the Ontario Northland Transportation Commission is drawing more freight off-highway onto rail, from new multi-modal yards in Timmins and Cochrane for industrial clients, to increasing grain shipments from Temiskaming's farming communities. Should Ontario's Ford Government mandate the commission to reinstate the Northland's full passenger service, heritage-conscious Gravenhurst has its attractive train station ready.
Article by J. Patrick Boyer