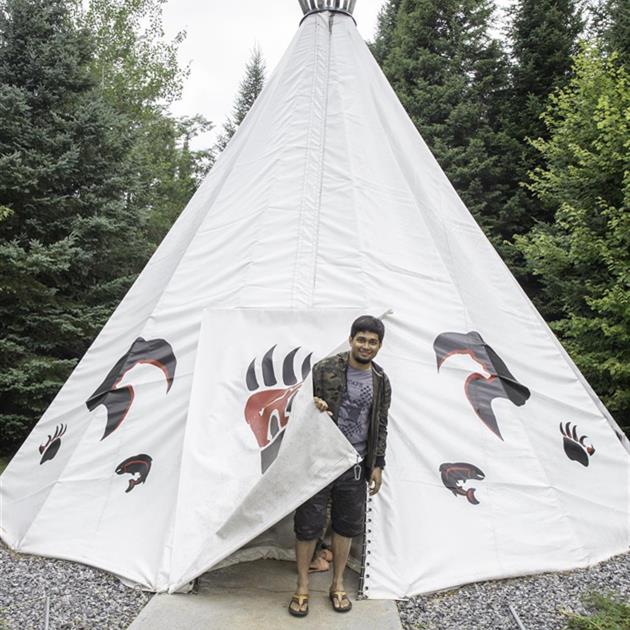 TIPI ADVENTURES - CONNECTING WITH FAMILY, FRIENDS AND THE ENVIRONMENT
What do you get when take 26 young urbanites and plunk them in the middle of the Muskoka bush with no Wi-Fi, electricity or hot water and a tipi to sleep in?
Apparently, you get a pretty good time.
"It was awesome," says Carlito Dumpit, an Ajax resident who spent this past May long weekend with 25 friends from the GTA at Tipi Adventure on Beatrice Town Line in Bracebridge. "It's really off the grid. They don't have electricity onsite, there's not even hot water to bathe in, so it was a really different experience. We felt like we were pioneers."
Tipi Adventure is situated on 80 acres of boreal forest and the accommodations consist of three tipis, capable of holding 10 guests each.
Dumpit heard about the tipis from a friend of a friend who had stayed there and recommended it.
"At the start of the year, my friends and I make sure that all our vacation dates jive with each other. We usually go somewhere together for that May long weekend," he says. "They wanted something different so that's why they tried it."
The experience was like nothing the group had done before, as they explored the five kilometres of maintained trails onsite, the small pond and the surrounding forest.
"They really enjoyed it. There were a lot of blackflies but aside from that, it was great," says Dumpit. "It's really different compared to just setting up tents or even living in a yurt. It's very peaceful at night and a great way to reconnect." 
Tipi Adventure is the brainchild of Jochen and Elke Schlichte, German immigrants who fell in love with the area when they first passed through on their way to Algonquin Park.
"To be honest, the owners were probably the thing I enjoyed the most," says Dumpit. "They take care of everything, right down to the hot chocolate and coffee they bring you in the morning. It's a very nice personal touch."
The Schlichtes first came to Canada on vacation with their four young children in 1979 and were immediately smitten.  
"We fell in love with the country, seeing how all these different people could live peacefully together," says Elke. "Things may have changed but that main concept has not changed. Canada, in our eyes, is still the best country in the world to live in."
The couple settled in Newmarket after moving to Canada in 1984. Upon retirement, they were looking for a new challenge to engage their active lifestyle and help supplement their retirement income. They had been eyeing property north of Toronto and the opportunity came up for them to purchase property on Beatrice Town Line through a relative.
"Originally, there was nothing here, except one little cottage," says Elke. "We were thinking about what we could do but there were limitations on what you can build. You couldn't build any bunkhouses or cottages but we could have something that was not permanent."
The idea of building tipis began to percolate. It's an idea that's been closely tied into the fabric of German culture for more than a century. 
Starting in the late 1890s, author Karl May wrote a series of novels illustrating the fictional exploits of a German engineer called "Old Shatterhand" and an Apache chief named Winnetou. The books would become a best-selling novel series in the history of the German language and would spawn popular films and stage adaptations. 
"This is what we grew up with in Germany," says Elke.  "The Native people were our heroes."
The idea began to solidify and they were able to purchase the tipis from a company based out of Oro-Medonte. The exteriors and interiors were decorated with large, original Canadian motifs, painted by artist Milada Tillingerova.
By 2013, the washrooms and kitchen facility were completed and Tipi Adventure was open for trial runs with friends and family. The following year, they opened to the public.
"Business has really been increasing," says Elke. "If you look online, you can see how people have really embraced it, despite the mosquitoes up here." 
In addition to the tipis, themselves, the property has a freshwater pond where guests can fish and swim in the summer and skate in the winter (they clear an oval skating trail and the tipis are heated).
There's a sports field and the trails can be hiked, biked or snowshoed in the winter. They also have private outdoor showers with change rooms, waterless toilets, kitchen facilities and various games for inside and outside. 
"You just bring a sleeping bag and your food," says Elke.
The majority of guests, thus far, have come from the GTA but Elke says they've had visitors from around the globe. 
"France, Italy, Australia, Colombia – all over the world. We've also had a few Aboriginal groups," says Elke. "Often they're coming to visit family in Toronto and they want to do something special."
The number one goal is connection, according to Elke, connection with friends and family, and connection with the surrounding environment.
"They like that it's so beautiful here, so peaceful and they're so close to nature," she says. "We don't have Wi-Fi, so you need to talk to each other, play games, hang out."
While the idea of cutting the cord to the outside world could cause many people's blood pressure to rise, Carlos Dumpit says it was quite the opposite for him.
"It wasn't stressful at all," he says. "In fact, it helps you de-stress. The pace is a little slower and we just played everything by ear."
Giselle Valdeiro, who visited in July with her husband, son, niece and nephew, would tend to agree.
"It was truly a 'one with nature' experience," says Valdeiro. "Tipi Adventures has struck the fine balance of providing essentials like shelter, outdoor kitchen, firepit, solar lighting around the area, amazing bunk beds in the tipi, dishware, with the silence of being alone in the woods. For the first time, we actually heard the sound of trembling aspens as their leaves rustled."
Valdeiro says the trip was a step up from traditional camping, as they didn't have to pack the car with supplies and they could also bring their golden lab along (something not allowed at provincial parks).
Valdeiro also cited the hospitality of their hosts as one of the factors that made the trip so special. When their car blew a flat, Jochen took it into town for repairs, while Elke drove Valdiero to an appointment in Orillia. 
"We went to the tipi with a family of five and we returned with a family of seven, so to speak," says Valdiero. "Their thoughtfulness and hospitality will stay with us for a long time to come."
Making those connections is more than just a business philosophy for Jochen and Elke, it's a personal mantra.
"We don't have an automated booking system for that reason. Things can be very impersonal these days but I want to speak with them because I enjoy it," says Elke. "It's very important to us that people find a way back to nature, cherish it and respect it. It's about conscious living and really connecting - not just texting but that real feeling of connection." 
Article by Matt Driscoll / Photography by Tomasz Szumski