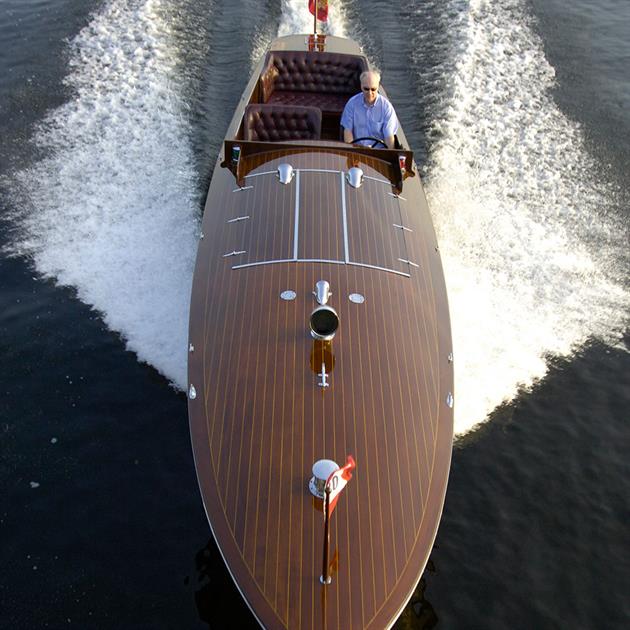 MUSKOKA'S HISTORY OF RECORD-SETTING SPEED
The desire to go fast on the water has always been an irresistible goal and Muskoka is experiencing a renewed interest in historic race boats.
In 2013, Miss Canada IV returned to Muskoka. A few years ago, Rainbow III returned from the United States. Rainbow I and Rainbow IV have been recreated. Rainbow IX and X, along with the Gadfly, one of famed boat racer Harry Greening's earliest boats, are already in Muskoka. Miss Canada III, built new from the original plans in 1987 and now, according to Murray Walker, Miss Supertest III is in Muskoka.
In 1959, Miss Supertest ended 39 years of United States domination in the Harmsworth Trophy series. Miss Supertest III and pilot Bob Hayward defeated Bill Stead and Maverick in two heats out of three on the Detroit River. And Harold Wilson, together with old friend Charlie Volker, were there to cheer Hayward on to victory. Miss Supertest III was on display at the ACBS-Toronto summer show in 2013. She was surrounded by members of the Canadian Motorsports Hall of Fame.
For years, Miss Canada IV sat languishing in different states of hibernation and display. It was a remarkable achievement to restore her aged and race-weathered form and to install a near identical replacement to the original 3000 hp Rolls Royce Griffon engine. The engine was originally designed for aeronautics, not marine applications. It took expertise in many areas; patience and time to pull it all together. With the help of substantial sponsorship and the skilled hands of boat restorer Tom Adams and his crew, Miss Canada IV was the star of the show at the ACBS-Toronto summer show in Gravenhurst in 2013, finding a new permanent home in Muskoka.
Miss Canada IV was designed by Douglas Van Patten, who also designed Miss Canada III, to challenge for the Harmsworth Trophy in 1949. Miss Canada IV set a North American mile straightaway record in 1949, posting an average of 138.865 mph, which bettered Miss America X's record.
Greavette Boats was the chosen builder of Harold Wilson's Miss Canada series boats and Ditchburn built the famous Rainbow series for Harry Greening. These are two historic and best known of many drivers who enjoyed the thrills and challenges of racing boats. This period of building race boats in Muskoka began in the early 1920s and continued in the 1940s with hydroplanes built by Minett-Shields under contract for Ventnor Boats.
During the height of his racing period, the Greening family rented a cottage on Chief Island, Lake Muskoka, but he did his testing on Lake Rosseau. Greening, of Hamilton, Ontario, got the speedboat bug at an early age. Greening's interest is fast running boats is believed to have started with his tinkering with power boats around 1903 when as a young man, he installed a home-made 3-horsepower motor in a canoe. Greening built the engine on a foot lathe in the attic of his home. The result was a canoe that could travel at 9 mph in the rough waters of Lake Rosseau.
Greening's experimenting with his race boats, the speed trials and endurance runs are still within reach of the living memory of a few boat experts and historians. Ed Skinner, former co-owner of Duke Boats in Port Carling, remembers his father telling him about the days when Greening would dock at Wigwassin for refueling and ran the races in September or October to avoid the tourist season, explains Skinner. Seems as though Harry was more thoughtful of seasonal residents than some boaters are today! Imagine running a course around Lake Rosseau for 24 hours straight.
Rainbow III returned to Muskoka from the U.S., a few years ago. After suffering a disappointing loss in her Gold Cup races of 1923, she was brought back to Muskoka to challenge the 24-hour endurance record. A 19-mile course was set up on Lake Rosseau and she ran 1064 miles in 24 hours, which set a new record and she was the first power boat to travel more than 1000 miles in 24 hours. The 200 hp Packard engine reportedly performed flawlessly.
Harry Greening, both a legend and pioneer in the annals of racing history, won the Fischer Trophy twice in Rainbow I in 1920 and 1921. Built by Ditchburn Boats of Muskoka, Rainbow I was proclaimed by contemporary press as one of the finest race boats ever built, at least until she was destroyed racing in Buffalo in the 1950s.
Rainbow 1, originally built by Ditchburn boats in 1920, was recreated by Gary Clark and his team.
"This was definitely one of our bigger accomplishments," said Gary Clark of Clark Wooden Boats, who has spent countless hours pouring over historic photographs to replicate every detail as accurately as possible.
Muskoka boat restoration shops are intimately familiar with Ditchburn boats, one of the great names in vintage launches but Rainbow I turned to be a very special replica to construct. Her hull design was a blend of modern and traditional construction methods. Original bills showed the engine hatches alone cost $1,200 in 1920 values. The hardware needed to be cast from specially-made hand-carved patterns. A custom built 750 hp, V-12 BPM engine was installed, while the original was powered by a 275 hp Sterling V-6 engine.
The 1922 Rainbow IX, originally named Miss Packard Chris Craft, was once powered by a Packard engine. The old Packard engine had long since been replaced with a BPM motor by her previous owner, John Blair. BPM engines are renowned in nautical racing circles for their capability to produce huge amounts of horsepower. In Rainbow IX, she puts outs about 650 hp, but could be modified to make as much as 3000 hp in other configurations. Owner Murray Walker considers her "the ultimate gentleman's racer for her speed, nautical legacy and being a thrill to drive."
Not everyone, who desires speed on the water, needs a record-setting race craft to enjoy the thrill in a wooden boat of historic origins. Boats like Whippet, Cricket and B-IV were Ditchburn-built boats that were battling it out in the mid and late thirties with specialty engines and the competition of circuit races to spur them on.
The early 1930s was a great period for the gentleman's sports runabout. All the major builders were constructing versions of an 18 or 19 foot runabout, designed by John Hacker, a famous naval designer. Altair, built in 1933, is a Minett-Shields with a John Hacker hull and the first in a series of six Minett-Shields sports runabouts. These little 18' 6" boats were the hot rods of the water for young gentlemen of means. They would compete at races organized by the Muskoka Lakes Association, Foot's Bay series and others. Altair competed in races on the Lake of Bays.
"Altair was built for my father, Edson Peck, on his 18th birthday," explains John Peck, her current owner, and she could be considered the prototype for the series. Altair sits low in the water with an outboard rudder and a cockpit located very near the transom. There are two upholstered deck seats for a more wind-in-your face experience.
The Hacker design is a planing hull that moves quite well for a small boat. Peck explains that she has had different engines over the years. "Her original engine was, I believe, a Gray Marine engine of modest horsepower. My uncle, Cameron Peck, conspired to install a 90 horsepower V-8 truck engine in the 1940s which made the boat fairly fast. In fact we have a trophy for a race Cameron won with her during a Lake of Bays event. Altair was restored in 1968, at which time the engine was upgraded to a 289 Interceptor."
These early days of racing and sport runabouts set the tone and the standard for the style and character of the sport boats we enjoy today. The period continues to resonate with collectors as replicas and updated versions are commissioned each year by Muskoka's boat builders.
For those wanting even more thrill in a small package, the sea flea could be the answer. Ten horsepower would be enough to propel these tiny plywood craft to speeds fast enough to thrill but in a package easily lifted on to a roof or a trailer by two people. While the days of competitive sea flea races is well past, the Muskoka Sea Flea club does an admirable job of keeping the sport alive and family oriented.
Each year, the club hosts its annual Sea Flea Fest, usually on Kahshe Lake, where most of the founding members have summered for years. The event is very much a family weekend with boats ranging in size from the tiny four horsepower outboards to two seaters with 25 hp hung on the transom. There is a strong connection with the Muskoka Sea Flea group and the Maple Leaf chapter of the Outboard Motor Club, since many of the little plywood craft are vintage and powered by vintage engines.
Speed on the water can take many forms today and those passionate enough about it will find a club or association with more like-minded folk. Circuit races on the main lakes of Muskoka don't fit modern summer trends with increased boat traffic, an increased summer population and boats that are far faster on average than the vintage craft enjoyed at boat shows. Reviving historic craft and enjoying vintage engines reminds us of the days before sound systems were commonplace in a boat.
Source: Unique Muskoka Magazine
Article and Photography by Tim Du Vernet