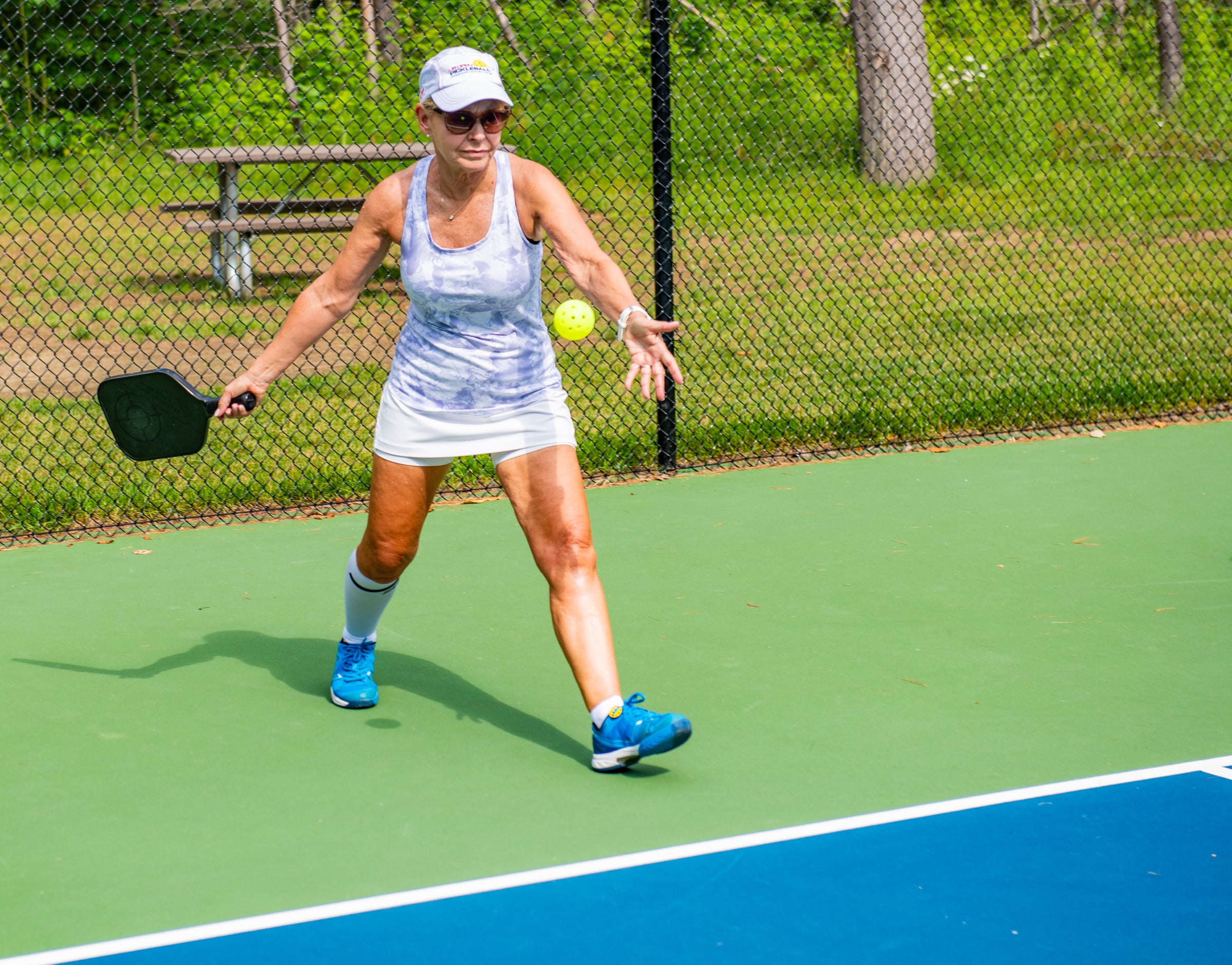 Pickleball – A Game for All Ages
Article & Photography by Andy Zeltkalns
What do you do when your family is bored and can't find anything to do? Well, you invent a game to get them involved.
One weekend in 1965, that is exactly what happened when Joel Prichard and Bill Bell of Washington State created a new game using equipment they had lying around the house. Using an old badminton court, some table tennis paddles and a perforated plastic ball, they designed an activity the whole family could enjoy.
By the following weekend, a friend, Barney McCallum, was introduced to the game and the three men decided to refine the rules. They relied on badminton as a guide but ensured the game could be easily played by all. By 1967, the first permanent pickleball court was established. Over the next 50 years, the new game started to slowly gain in popularity.
A regulation size pickleball court is 44 feet by 20 feet, which is one fourth the size of a tennis court. Most commonly the game is played as doubles, with two people on each team, using a net of 34-inch height in the middle. Players use a solid paddle which is in between the size of a tennis racquet and a table tennis paddle. In pickleball one uses a regulation size perforated plastic ball with 26 to 40 holes, depending on whether the ball is being used indoors or outdoors. Outdoor balls have more holes, are smaller, heavier and harder and therefore less affected by wind.
Canadian snowbirds who had learned about the game in the southern states originally brought pickleball to Canada in the early 1970s as they returned home from winter vacation. However, it wasn't until around 2013 that pickleball started to appear in various places throughout Muskoka.
According to Diane Wieber, sports and recreation programmer at the Bracebridge Sportsplex, there were initially three indoor courts established at their facility using painter's tape to create the required lines. In the beginning, it was common to get 15 to 20 people coming out at a time, explains Wieber.
By 2015 the courts were made permanent and since then the number of people playing has continued to increase. Presently, during the fall and winter, courts at the Sportsplex are used seven days per week, four to five times per day. The Town of Bracebridge also has four dedicated outdoor courts for pickleball at Kelvin Grove Park and there will be six additional indoor courts available at the new Muskoka Lumber Community Centre when construction is completed.
Graham Hall, a level 2 certified pro and competitive player in his 70s, who teaches and coaches pickleball throughout Muskoka, spearheaded the creation of five indoor courts at the Gravenhurst Curling club in 2018. Originally, there were 40 people using the facility weekly and now there are approximately 150 people participating each week, explains Hall.
The trend of increasing numbers in pickleball has been seen everywhere throughout North America. Since the pandemic, the growth has been astronomical. Statistics collected by Pickleball Canada in January 2020 indicated there were 350,000 people playing pickleball throughout the country. By 2022, the number had tripled.
Although pickleball is often associated with retirees, the survey also demonstrated the sport is attracting younger adults as well. Players in the 18- to 34-year-old age range have the fastest growth rate, rising 26 per cent between 2020 and 2022. Hall is not surprised with these increasing numbers. He explains that pickleball is very accessible and easy to learn.
"I can teach someone the game in approximately 15 minutes," Hall shares, and because the game is very social and includes fitness benefits, it has become very popular. Pickleball is low impact and easier on the body compared to tennis. The game also requires less movement and strength to get the ball over the net which makes it accessible to an aging demographic.
Play of the game can be at a relaxed and slow pace recreationally or the game can get intense at the competitive level. Pickleball is played to a score of 11 and games typically last around 15 minutes depending on the level of experience of the players. After the game is done, players usually switch up and play another team creating many opportunities for social interaction.
Corby Kent, a high school teacher at Bracebridge and Muskoka Lakes Secondary School in Bracebridge, introduced his physical education classes to pickleball in 2018 through a provincially funded program. He observed that his students were quickly able to learn and participate in the game which made it an enjoyable way to improve fitness.
Youth pickleball initiatives in schools, sports clubs, and in summer camps have been increasing according to Pickleball Canada which reflects a growing number of under 18 players nationwide, so the game is not just for retirees. In response to this interest, the Bracebridge Sportsplex will be offering introduction to pickleball classes for youth, aged 9 to 12 years old, starting this fall.
Kent, also a level 2 certified pro, enjoys playing recreationally but likes the competitive challenge of the sport as well. He has played at provincial level tournaments in the 35- to 50-year-old category and sees a growing trend towards more competitive play. There are now professional leagues for pickleball, explains Kent, and it is not uncommon to see former competitive tennis players switching to the game.
Although most people playing pickleball still do it for the fun, fitness and social aspect, a recent 2023 survey by Pickleball Canada showed the number of people playing the game at a competitive level increased from 18 per cent to 27 per cent over the last year. The rise was mostly driven by women for whom competition being a key motivator for playing pickleball increased by 170 per cent.
A testament to the sport being accessible for a wide range of age groups is 94-year-old Doreen Murray of Muskoka who has been playing pickleball for the last four years.
"I've always been active, and I played tennis in my fifties and until recently participated in curling," explains Murray. "As I got older, I was concerned about slipping on the ice while curling and needed to find another activity which was social and also maintained fitness."
As a result, Murray decided to try pickleball and has never looked back. Now Murray plays three to four times per week in the Muskoka Lakes area at venues in Milford Bay, Port Carling and Bala. Murray has also played in tournaments in the 65+ category but does that more for enjoyment and not competition.
"I like that my whole family can be involved in pickleball and that I can keep up with them," emphasises Murray.
Gloria Gardner, who is a key organizer for pickleball in Muskoka Lakes, explains that it was 2014 when the sport first got its start in the area.
"At that time there were two courts established in Bala and about 100 people played the first year," states Gardner. She went on to describe how pickleball then expanded to Port Carling and by 2016 two courts were created on the main floor of the Milford Bay Community Centre.
At present pickleball is being played at least six times per week throughout Muskoka Lakes and about 1300 people have played since 2014. Gardener also explained that the game has been popular with kids and in 2019 Port Carling started offering a free hour of pickleball for kids each week. According to Gardner, there is a good demographic mix of people playing pickleball and she has seen a lot of social interaction taking place as part of the game. She described how cottagers and people new to the area have found it a great way to meet others.
In the Huntsville area, Lorna and Jim Popofski have established themselves as key drivers of the pickleball explosion. Lorna and Jim both retired to Muskoka in 2013 and, while spending winters in Florida, discovered and developed a passion for the game.
Both are highly skilled players and together they have played in more than 30 tournaments all over Ontario and Florida, including five Ontario Championships and one Eastern Canadian National Championship. They wanted to continue playing pickleball in Muskoka but were disappointed by the lack of opportunities available in Huntsville.
In the beginning, they used a nearby, accessible arena and relied on painter's tape to create their initial courts. Eventually they were able to have permanent lines painted for the boundaries and slowly the interest in pickleball increased. As the game grew in popularity, Lorna and Jim wanted to add outdoor courts to the list of facilities available.
With determination and persistence, they worked with Huntsville town council for three years and eventually, in September 2022, established four permanent dedicated pickleball courts at McCulley-Robertson Recreational Park. They also created a pickleball club where, for $60, members can play from the long weekend in May until Thanksgiving in October. The courts are free after six p.m. on weekdays and during weekends they see many families playing at the facility, states Jim.
"Membership has doubled since last September," explains Jim. "We now have 260 members plus 100 interested players on an email list." Aside from all the other benefits, the Popofskis explain that pickleball is a relatively inexpensive sport to participate in, which adds to its appeal.
With wide availability throughout Muskoka, plus its many other benefits, pickleball is a game for all ages.