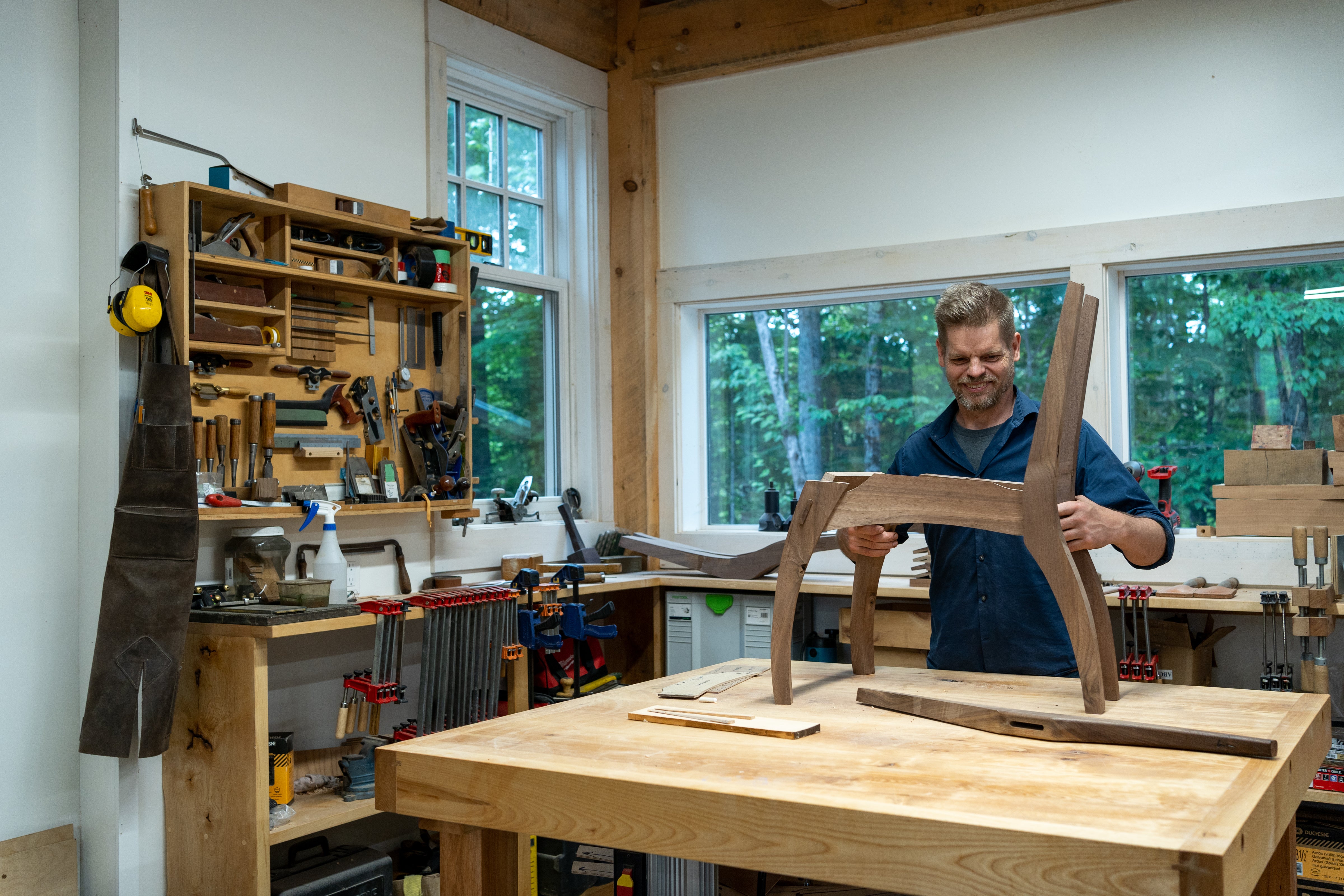 Designing in Wood – A Sharp Frame of Mind
Article by Bronwyn Boyer / Photography by Josianne Masseau
Timber framing and fine woodworking require more than just proper cutting and shaping tools. Both disciplines also require a level of fortitude and patience that can only come from the joy of the craft.
Cirvan Hamilton is equally immersed in large-scale construction projects and small-scale furniture pieces. Growing up in Hamilton, Ontario, he always had a keen interest in building and auto mechanics. When he and his wife, Elise Muller, moved to their new property near Dorset in 1999, Hamilton's first project was building their home and then a shop where they could work. As Muller is a stone sculptor, the couple named their venture Stone Tree Studio, for his work with wood and hers with stone.
Hamilton began working for Huntsville contractor Dean Ungard, who taught him how to timber frame. "I became interested in bracing techniques and mortise and tenon joinery," Hamilton recalls. "I loved the style of building with primarily wood-to-wood connections, rather than metal fasteners. It's much stronger and also looks better. That got me thinking about furniture and applying the same principles on a smaller scale." 
When Hamilton got in on the ground floor of Portico Timber Frames in Dorset, his love of craftsmanship deepened. "It's not just basic carpentry," explains Hamilton. "It's much more detail-oriented, so it grasped my attention a lot more. I would go home each night and practice building furniture until I got to a point where I felt I either taught myself everything I could, or learned all I could from the field."
In 2008, Hamilton took a three-month craftsmanship program at Rosewood School of Fine Woodworking in Perth, Ontario. "That solidified at a lot of hand skills," Hamilton recalls. "I learned more about working with hand tools and how to cut proper joinery for furniture. From there I just kept practicing and learning in finer detail. When people started noticing what I was doing, I was able to make a living at it."
Whether it's a large building or a small, elegant cabinet, Hamilton prefers the traditional joinery technique known as mortise and tenon. This means there is virtually no metal and any metal that is required is invisible.
Hamilton recently finished expanding his workshop to allow him to complete larger projects off-site. In addition to improving Stone Tree Studio's operating environment, it's also a testament to his work. After completing that project, Hamilton can take a break by moving back into furniture building, which gives him a good balance of both worlds.
"I love timber framing but it's incredibly heavy," he explains. "It's months of heavy lifting and working with chisels and mallets that weigh a couple pounds each. After a while your back starts to hurt, so it's so great to be able to take a break and scale down. The principles are the same; it's just that one is much smaller and lighter than the other."
Hamilton's shop expansion is also the result of his specialty in building custom staircases. For the last few years, designing and building stairs has become the majority of his construction business.
"It's a niche market and people are looking for something unique," Hamilton says. "There is a lot of fine woodworking skills involved – a lot of fitting and joinery." 
Hamilton uses computer software to design the staircases, which gives him an x-ray vision of the internal framing, the intersection of joinery and bracing details and how it will all fit together.
"It allows me to see what pieces interfere with each other and which issues will need to be solved," he explains. "So, before I even start cutting timbers, I can fix all my mistakes."
Some of the stair projects are more difficult than others. "Log stairs are tricky and require more planning," Hamilton says. "The round shape makes them harder to fit together. They're very heavy, so it's a lot of lifting. The natural wood has bumps, knots and twists that cause a lot of trial and error. And when the steps curve around corners, it's especially challenging because the tree is misshapen and unpredictable. So, it's very enjoyable work for me because it never gets boring." 
Designing staircases is also a creative outlet for Hamilton. "They're fun, interesting, and are typically the focal point of a house," he says. "It's a nice feeling, having people trust me to design these important pieces for their dream homes."
Hamilton first learned how to build stairs from Dean Ungard, who later approached Hamilton to collaborate. "One day he called and asked if I'd like to build an oak staircase with him," Hamilton recalls. "It was such a great time I've been building them ever since."
Hamilton's employee Jamie Clarke has been instrumental in the development of the stair construction side of the business. "Jamie is a huge help because he can tackle a lot of the heavy lifting," explains Hamilton. "And a lot of time needs to be spent laminating, milling wood, gluing, planing, and sanding. While he's doing that, I get to work on furniture building, so it's a terrific balance."
Although many would consider his furniture beautiful works of art, Hamilton isn't comfortable with the word "artist." He considers himself a craftsman and designer because his work is practical despite the creative aspect.
Hamilton's designs are fine-boned structures that are practical and exquisite. The silky-smooth grains, varied colours and textures and delicate inlay patterns give his pieces an air of sophistication fit for a fairy tale. But though they may look delicate, they're crafted to stand the test of weight and time. Hamilton often adds surprising details like off-centre inlays in unexpected places and door pulls made from motorcycle parts.
The inlay patterns Hamilton uses to embellish his work gives it a signature style. Fine lines, geometric shapes, butterflies and blades of grass made of purpleheart, holly, ebony, and zebra woods are meticulously sliced on the bandsaw and set into perfect indents cut in the wood.
"It's a process cutting the pieces and strips on the bandsaw but then I still need to plane it to fit the grooves," Hamilton explains. "So, you're cutting for a groove that's 40 thousandths of an inch wide. It's very painstaking work. But I find it meditative and very enjoyable."
Hamilton first learned to inlay from Garrett Hack at Rosewood School, although it went against the lesson plan. "The class was on building a cabinet but I already knew how to do that," Hamilton recalls. "So, I built mine really quickly and then pestered him to teach me to do inlays. Luckily he was generous in teaching me. I practiced until I perfected it because it got addictive. A lot of things around the house ended up getting inlays on them because I needed the practice."
Commercial suppliers for domestic woods are the main source of material for the projects completed at Stone Tree Studio. "I'm always travelling for wood because I want to pick it myself," he says. "Especially for the furniture, I want the grain to be just right, so it flows together perfectly."
Hamilton is also mindful of ethical and sustainable sources for the exotic woods. He also uses locally-sourced wood when it fits the bill. "Muskoka has beautiful figured maple, bird's eye and curly maple, and though we don't grow large trees, many are quite spectacular."
Hamilton finds that some woods are more difficult to work with than others, which causes more wear and tear to his tools. But he always finds something to love about each type of wood he shapes.
"It's hard to pick a favourite," he says. "They're all my favourite, for different reasons. When you stain red oak black, the grain structure is very dramatic. Yellow birch is a light wood that mills nicely and comes out quite beautiful. Douglas fir is one of my favourite softwoods; it's tricky to work with because it's very splintery, but it's gorgeous in the end. Each wood has a unique grain and colour and some change colours over time, so it's always exciting."
Hamilton gets his inspiration through quiet contemplation. "I just stare at what I'm working on until I get new ideas," he explains. "I sketch what comes to me and then I go to the bandsaw and try to refine it, experimenting as I go. Sometimes the best ideas come about through pure accident." 
Hamilton showcases his work at arts and crafts shows throughout Ontario as well as the Artists of the Limberlost tour.
"It's always fun to answer questions about what I do," he says. "I like sharing what I know – I'm not secretive about it. If someone asks how I do inlay at a show, I'll walk them through the process. It's fun when people take interest in it. When they walk away fired up about trying something new, that's my favorite part."
Rather than attribute his success to natural talent or aptitude, Hamilton maintains that it's determination that got him where he is today.
"I'm just stubborn, more than anything," he says. "Mostly, it just takes a lot of patience and perseverance. There's no room for error, so it takes a concerted effort. You have to be in the right frame of mind."