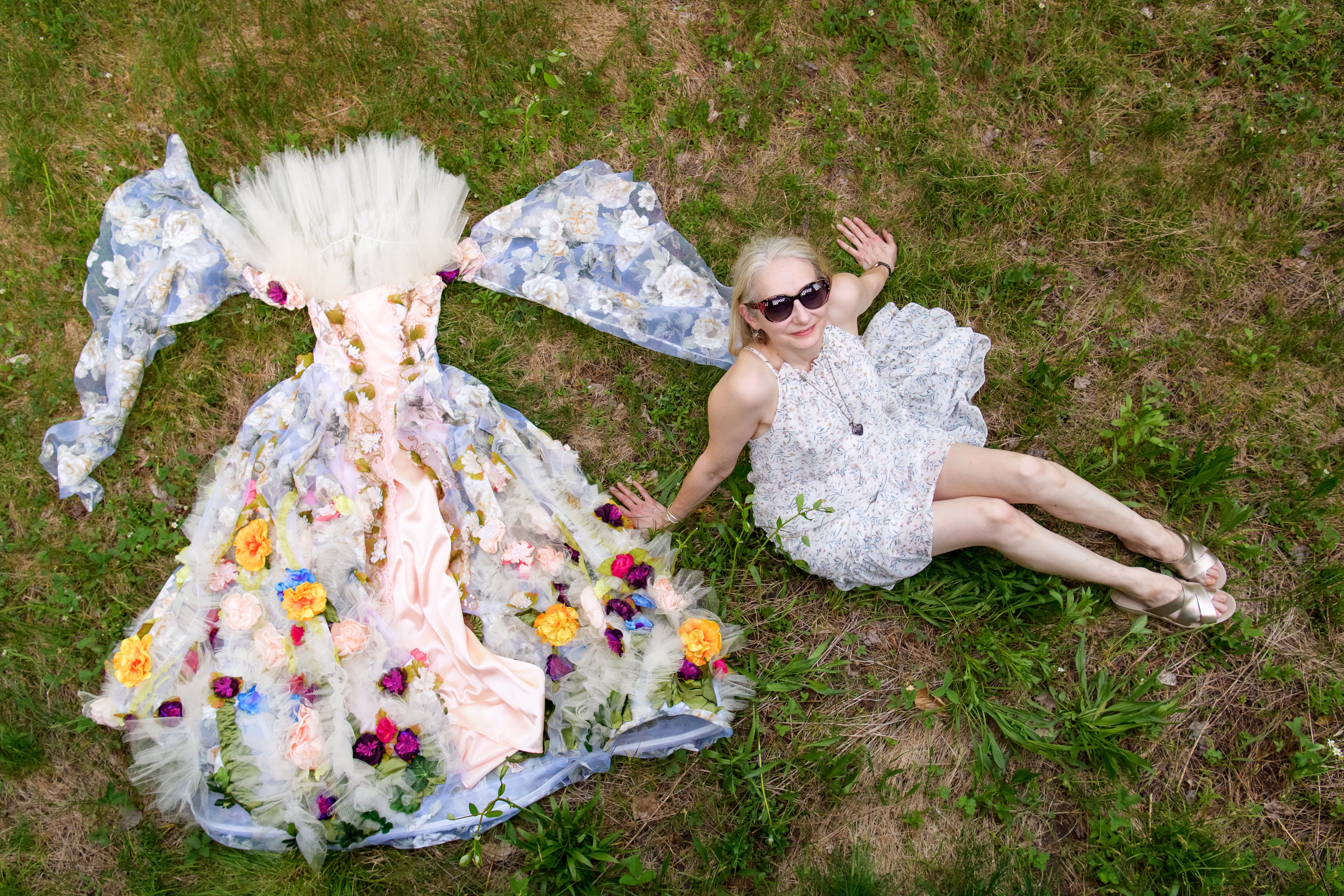 Passion Plays
Article by Bronwyn Boyer / Photography by Kelly Holinshead
The performing arts are as vital to the soul as oxygen is for the body; they are woven into the fabric of a community. It's only natural that in the current post-pandemic climate, theatre companies in Muskoka are flourishing more than ever.
The early seeds of professional theatre in Muskoka were sown by Bracebridge native Robin Clipsham. Clipsham is an educator, actor, director, writer and character creator who has dedicated her life to the performing arts. She taught high school as well as theatre performance and production at Nipissing University. When Clipsham first started studying theatre improvisation at Second City in 1993, she didn't realize how life-changing it would be.
"I discovered all kinds of benefits for myself," Clipsham recalls. "And then the kids discovered that it gave them confidence, listening skills, co-operation and team building skills. I've been teaching it to everyone from age seven to ninety-seven."
In 2008, Clipsham launched PRISM Theatre in the Park, a series of outdoor plays at Annie Williams Memorial Park in Bracebridge. In 2016, she started Muskoka StageWorks, an umbrella company encompassing her various theatrical projects. Currently, Clipsham is focusing on teaching improv as a tool for seniors with Alzheimer's disease and their families.
"Improv is about building and creating stories," Clipsham explains. "When someone develops Alzheimer's they lose relationships. Improvising characters and roles can jog their memory and allows them to build new connections with their loved ones."
Clipsham may be retired from her career in teaching but using theatre to help and inspire others is something she'll never stop doing.
"Theatre gives you the chance to be part of something bigger than yourself," Clipsham says. "It teaches how important it is to lift each other up. There's so much joy in coming together to create something that everyone can grow from. Theatre is good for the soul, the mind, the body, and everything else. It gave me my life."
Clipsham recently left her role as artistic director of PRISM Theatre in the Park and passed the torch to her protégé, David Wray. Muskoka native Wray is an award-winning improviser and actor.
Wray discovered his love of acting in high school. As a stagehand while he was operating the curtain, he found himself singing and dancing along to the songs. From then on, Wray started training and performing in school plays, Hub Productions and then PRISM.
To date, Wray has been involved in every show PRISM has put on in some form, so his new role with the company is a natural step. A Midsummer Night's Dream was the first show PRISM ever produced and it will return this summer as Wray's debut at the helm of the company, bringing things full circle.
What Wray loves about outdoor theatre is that it creates a better connection to the audience. "When all the lights are on in a theatre, you can't see the audience, and you could be anywhere," he explains. "But being outside on a summer evening in Muskoka really is a truly unique experience. There's no hiding. The closest thing to backstage is the woods."
Theatre is collaboration between the performers and the audience, so it requires physical gatherings to create its magic. That 'magic' is what motivates performers to work so hard and sacrifice so much to give people that experience.
"It's amazing what we can pull off in small spaces on shoestring budgets with only local talent," says Jan Jacklin, co-founder of Huntsville Theatre Company and founder of Dot the T Productions. "When we have the talent and the passion to learn, anything is possible. That's the beauty of community theatre."
Jacklin, an enterprising and creative businesswoman, discovered her love of plays when she began performing and writing scripts in high school.
"Once I got a taste for it, I knew it was in my blood," Jacklin says. "And then when I got involved in community theatre productions in Toronto, I discovered how much I loved to create opportunities for performers. Once they find an outlet for their talent, they throw their whole soul into it."
In 2010, the Huntsville Theatre Company (HTC) got its start thanks to Jacklin's efforts. Since 2017, HTC has been putting on shows at the Algonquin Theatre. A recent run of the The Lion, the Witch, and the Wardrobe gave young actors the chance to perform in a state-of-the-art theatre. The show was part of the company's Theatre Is My Passion program; a youth collective that learns and grows through theatre.
"I love the journey it takes us on," says Lauren Rodrigues, president of HTC. "We rehearse a show for months with a group of people, getting to know each other, feeding off each other and brainstorming ideas. And then suddenly all these new people come in and witness it who have never seen it before, and we get to see how they respond to it – there's just nothing like it."
Rodrigues studied performing arts as a child in Calgary where she grew up. After graduating with a degree in acting from Queen's University, her quest for full-time employment in the arts brought her to Muskoka in 2012 to be Les Stroud's assistant on the hit television series Survivorman. In her spare time, she runs the Huntsville Theatre Company.
"When I moved to Huntsville, I was amazed at how many people have professional experience in the arts," recalls Rodrigues. "I didn't know anybody, so I was looking for something else to do besides work."
When Jacklin left HTC in 2017, she launched Dot the T Productions as a "pop up" touring theatre company. Jacklin is fueled by the challenge of bringing people together to make the performing arts accessible and lucrative.
"When COVID-19 brought things to a halt, I bought a stage and made my own venue where people could gather outside at safe distance," Jacklin explains. "Many professional actors were out of work because most venues and companies were shut down, so we were able to bring talent up to put on shows that we otherwise wouldn't have been able to do."
Throughout July, Dot the T Productions will be presenting Shirley Valentine at Jacklin's backyard stage on Limberlost Road in Huntsville. Then in August, Jacklin will be hosting free performances of readings to test-drive her own plays.
"As a playwright, I want real feedback," Jacklin clarifies. "Also, I think establishments should consider hosting readings as well – teaming up with theatre performers would add more variety to local venues. I believe collaboration is the key to our future success."
Collaboration is a key element in the success of Dragonfly Theatre Company, launched by Emma Phillips, along with her mother and a friend, in 2006. They began with dinner theatre at the Gravenhurst Opera House, putting on British plays because they were all from Britain. Later Phillips teamed up with Earl Sacrey, the drama teacher at Gravenhurst High School.
Individually, Phillips and Sacrey direct Rotary productions. Most recently Sacrey directed Matilda and Phillips directed Cabaret and The Sound of Music. When they join forces, they make a formidable team. This year, Dragonfly is presenting Little Shop of Horrors in August.
In addition to directing and performing, Phillips makes the costumes and paints and decorates the sets. Meanwhile, Sacrey handles the musical and technical aspects of the shows.
"Little Shop of Horrors will be our first musical, so we're really excited about it," says Phillips. "We've got some great singers – we're really excited about the cast. And everyone is doing it for the pure love of theatre, because the money we make goes towards producing the next show."
As a child growing up in Britain, both Phillips' parents were heavily involved in theatre and Phillips would watch them work. At about 17, Phillips started off by trying stage managing. Eventually, she got the courage to perform and fell in love with the experience.
"When you go on stage, you're not you anymore, so the insecurity falls away," Phillips clarifies. But Phillips' favourite part of theatre production is everything that goes on behind the scenes.
"I love the process of building the play and imagining how we can make it interesting or different than what people would expect," Phillips says. "That's the part that inspires me the most. Creativity is the theme that runs through everything I do."
As for the inspiration behind the name, Phillips explains that dragonflies denote rebirth and summertime, present only at a certain special time of year.
"I wanted a name that represented Muskoka without having 'Muskoka' in the name," Phillips explains.
Also based in Gravenhurst, TimberBeast Productions pays historical homage to the lumber industry in Gravenhurst while encapsulating Autumn Smith's proud identity as an "unruly mess," in keeping with her life's creed to "say yes to the mess."
"I teach my students to adopt failure as a success," Smith explains. "It's a catalyst for learning and growth. I look at criticism and chaos as a useful part of the process. Art is subjective, so the only failure is giving up."
At the tender age of five, Toronto-born actor, director and educator Autumn Smith watched her older brother take dance classes and was inspired to try it herself. At age nine she started performing as a chorus dancer.
"I remember that feeling of how much I loved becoming another character," Smith recalls. "I loved learning about other people's worlds and stories so much, it just stuck."
Smith went on to receive formal acting training at Oxford School of Drama in the United Kingdom and then became a director at her own company in Toronto. Dedicated to carving out a full-time career in the performing arts, Smith currently teaches at York University and University of Toronto. When she's not doing that, she's in Gravenhurst running TimberBeast.
While researching the history of Muskoka, Smith was inspired to adapt the stories she discovered into live theatre pieces. Smith's adaptation of A Christmas Carol, first developed in 2020, is set in Gravenhurst at the turn of the century and it will return this December. TimberBeast is also running a musical series on the Gravenhurst barge in July and Smith's original musical, Souls of the Shield, will be performed in parts on Monday nights in August at the Gravenhurst wharf. Partnering with the Gravenhurst Opera House, Smith is also working on a Cinderella-themed pantomime called Citronella.
"Acting still terrifies me," Smith says. "It's the most vulnerable thing we can do. You have to open yourself up to criticism but also to the power of the narrative that you're exploring. But what's scary is also exciting because there's so much spontaneity in it."
"I was always a performer and I always loved performing," says Emma Grimstead, co-owner of Hub Productions with her mentor, Amy Bridle. "I also love working with creative kids and getting to help them express themselves. They all have great stories that need an outlet."
Hub Productions was founded in 2005 by Bridle, a Bracebridge native, to raise money to build the Rene Caisse Theatre. After completing a performing arts degree at York University, Bridle returned to her hometown and got straight to work. The inaugural show at the new theatre was Annie in 2005.
"Annie was a big success," Grimstead recalls. "We had hundreds of kids come out and I think it just really spoke to the need for theatre programs for youth in Bracebridge."
Grimstead starred as Annie at the age of 11 and quickly became Bridle's protégé. After getting a taste of the performing arts, Grimstead went to university to pursue formal training, which led to some professional television and film roles. But her real passion is her work with Hub Productions. After learning and working closely with Bridle over the years to help make Hub what it is today, Grimstead joined Bridle as her business partner in 2020.
After the Rene Caisse Theatre opened, Hub continued to raise money for the theatre from the proceeds of their shows. Since its inception, Hub has transformed into a year-round learning centre with summer camps for youth. Students of the camp get to perform a show each week on a state-of-the-art stage with lights and costumes. Hub also runs a year-round training program for ages four to eighteen.
"We find that so many kids who have never stepped foot on a stage before get bitten by the acting bug," says Grimstead. "At the very least, they end up gaining a lot of self confidence and self expression."
Theatre is about many things but most of all it's a celebration of fellowship and collaboration. Those dedicated to the arts are motivated by the love of storytelling to nourish the spirit and build community.