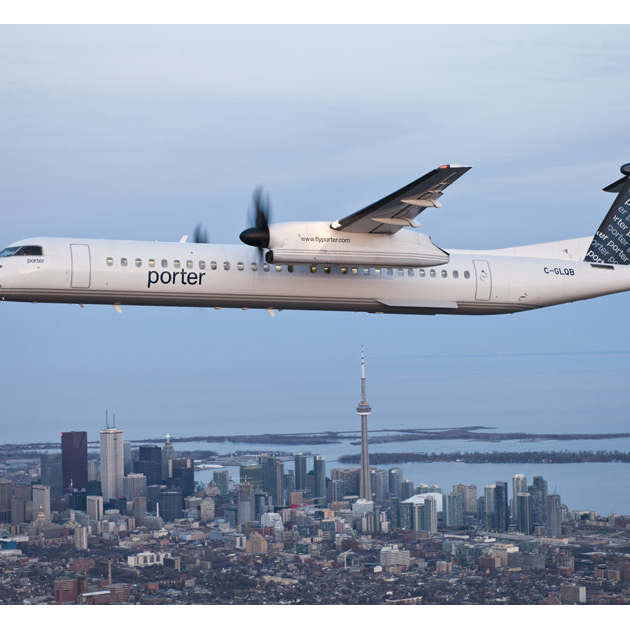 PORTER AIRLINES COMES TO MUSKOKA
Porter Airlines and RTO12 (Explorer's Edge) will be introducing summer seasonal service into the Muskoka Airport (YQA) for the summer of 2019!
Flights will have an air time of approximately 20 minutes, operating twice weekly on Thursdays and Mondays between Billy Bishop Toronto City Airport and Muskoka Airport, from June 27 to September 3. Connecting flights are available via Toronto for numerous Porter destinations in the U.S. and Canada. In the event of a long, holiday weekend, flights will run on the Tuesday instead of the holiday Monday.
The establishment of commercial air service at the Muskoka Airport has been a marathon effort by the dedicated staff at RTO12, one that started with RTO12 conducting a feasibility study (Muskoka Airport Designation: Security Screening & Commercial Air Service) for service at the airport in 2016, in partnership with the Planning & Economic Development Committee of the District of Muskoka at that time. This lead to the District of Muskoka's elected representatives sanctioning the introduction of CATSA screening services at the airport, using the cost recovery model that was laid out in the study (and which was newly on offer).
In a news release, RTO12 explains the intention with the introduction of commercial air service and the Great Canadian Wilderness program is to increase international visitation and to thereby increase spending in Muskoka. (these tourists "stay longer and spend more"). 
RTO12 will introduce a bus shuttle service in and out of the airport to coincide with arrivals and departures of Porter passengers. Four main routes across the region will be unveiled within the next couple of weeks, and tourism operators will be able to promote this service to potential customers to attract them to their properties. Tourism operators with their own shuttles will be able to pick up and drop off at the airport as well.
 Additionally, to incentivize the inaugural service, RTO12 will re-design the popular "Fuel & Fun Package" to become the "Fly & Explore Package", and offer $100 CDN in spending vouchers to domestic and international travelers who 1) book accommodation in the region and 2) arrive by Porter Airlines (a confirmation number and flight number will be required). More details on this new package will be distributed to tourism accommodations and attractions providers in the next few days.
RTO12 will also continue to target domestic and international markets in all four seasons, and will assist in the promotion of outbound travel from our region to ensure the success of the service in both directions. (Head out from Muskoka to anywhere on Porter's extensive North American network!) Tourism accounts for approximately 13% of the GDP in this region, and it is one of the top employers here. With an eye to ensuring the sustainability of the industry (as indicated in the recent 5-Year Regional Tourism Strategy) the RTO12 release states it will work hard to ensure the success of this project to ensure economic benefit for thousands of stakeholders.
Visit 
explorersedge.ca
 For flight schedules and rates, visit 
FlyPorter.com