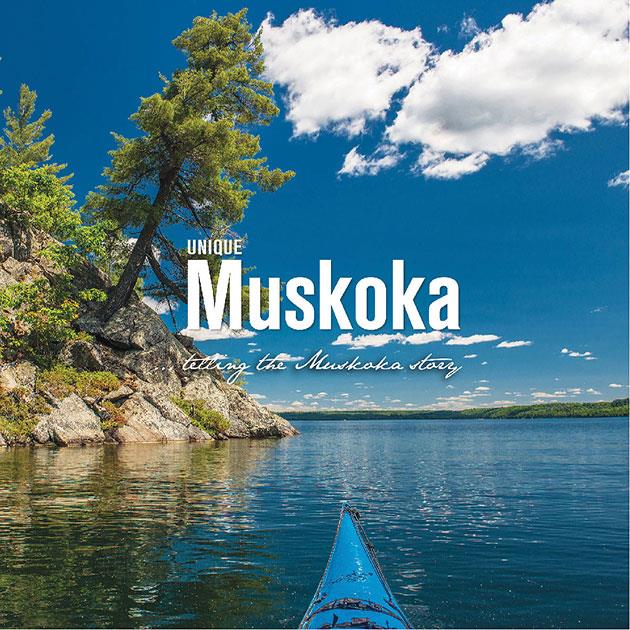 PORTER'S SCHEDULED AIR SERVICE - CONNECTS MUSKOKA TO OPPORTUNITIES
The summer commute between Toronto and Muskoka has become more streamlined. On Thursday, June 27, the first official 20-minute Porter Airlines flight, from Billy Bishop Toronto City Airport to Muskoka Airport, was welcomed with a water cannon salute and a large crowd of dignitaries, partners and community members.
Spearheading the initiative was Regional Tourism Organization 12, which is known as Explorers' Edge and is funded by the Ontario Ministry of Tourism, Culture and Sport. Explorers' Edge first approached the District of Muskoka's Planning and Economic Development Committee about the potential for developing commercial air service at the airport in 2015.
"Our objective is increased international visitation to this part of Ontario," explained James Murphy, executive director of Explorers' Edge. "The team has recognized and continues to recognize the importance of building new audiences for Muskoka and for this region, including Algonquin Park and Parry Sound. The marathon continues for our team and we couldn't be more excited to see the results of our very strategic efforts."
"Explorers Edge led a multi-year charge in attracting Porter to Muskoka," said Robert Deluce, executive chairman for Porter Airlines. "I can tell you that they were ambitious, persistent and creative, and willing to see through the very smallest of those details that ultimately got us here today. They remain an important partner in helping us promote the route to travellers throughout our network."
The 10-week seasonal service is a trial program, similar to the first flights Porter made to Mont Tremblant but seasonally reversed to those offered in Muskoka. Now, service to Mont Tremblant has expanded to a regular service, sometimes with multiple flights per day. The hope of everyone involved is the continued success and expansion of the Muskoka service.
"Partnering with someone like Porter Airlines, which has incredible gateways to the world, you could almost say the sky is the limit," said John Klinck, Muskoka District Chair. "I am proud to welcome the Porter family to the Muskoka family."
"This has been too long an undiscovered gem of Muskoka," said Bud Purvis, chair of the Muskoka Airport Board, in describing the airport.
"We've all been excited about the opportunity to welcome more guests from farther points," shared Leah Leslie, chair of the board for Muskoka Tourism and director of sales and marketing at the JW Marriott, The Rosseau in Minett. "Now that this service is available, getting the message out and making sure everybody knows about it is our responsibility."
Regularly scheduled flight service to Muskoka increases the accessibility and simplicity of travel to the area. As a tourism-based economy through all months of the year, with the most visitors through summer and fall, Muskoka thrives on travellers coming to and staying in the area. Visitors, seasonal residents and local residents have the opportunity to decrease their drive time and increase the ease of connecting to other flight paths with the use of the new Porter Airlines service.
Significant time and effort from numerous parties including representatives of the regional tourism organization, municipal staff, airport staff, business groups, tourism groups and others went into preparing the airport for commercial service.
The Requirements of the Canadian Air Transport Security Authority (CATSA) and Transport Canada for commercial air services were not accessible to municipal airports until the passing of the Transportation Modernization Act in 2018. The act, brought forward by Minister of Transport Marc Garneau, allows airports to become eligible for security screening and processing. By working with Porter Airlines and recognizing the value of the Muskoka Airport, Muskoka is the first community to take advantage of the availability of these resources.
The local effort to bring scheduled service to Muskoka received praise from Porter's Deluce.
"This is a fantastic welcome for Porter and a testament to the effort that has gone into making this new route a reality," shared Deluce. "Porter prides itself on providing a distinct level of service and I know that passengers will experience Muskoka's own unique brand of hospitality and I know that they'll really enjoy it."

"We, at Explorers' Edge, are committed to ensuring the service is a long-term success for everyone involved," confirmed Murphy.