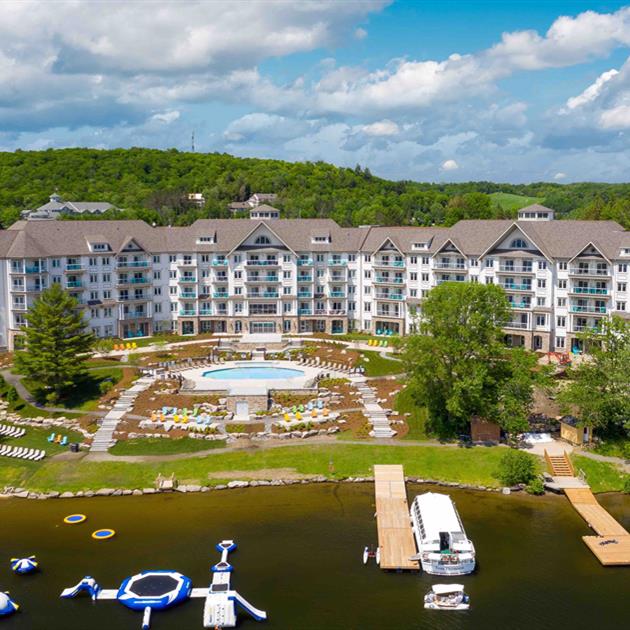 WHAT'S HAPPENED
Deerhurst Resort unveils a new gem on Peninsula Lake: Lakeside Lodge
When Charles Waterhouse opened Deerhurst Resort in 1896, he couldn't have known what a legacy he had created.
From its early beginnings with a single lodge and 18 guest rooms, Deerhurst has grown to a 760-acre property with capacity for 2,000 guests. Its latest addition, Lakeside Lodge, sits on the site of the original lodge and is a modern take on Waterhouse's early vision.
 "We have been opening our doors and sharing the beauty of Muskoka since 1896," Jesse Hamilton, general manager at Deerhurst Resort, told the crowd assembled for the Lakeside Lodge grand opening on June 27.
"We're not just looking to the future and thinking about what we'll become and how we'll grow but it gives us an opportunity to reflect on our past and look at how it is that we got here. Lakeside Lodge opening up today is as much about the Waterhouse vision for what Deerhurst would become.
"It has a lot to do with the ideas and the hopes that other owners have had, and it certainly is the first major milestone in Skyline's plans for Deerhurst Resort."
The goal for the 150,000 square-foot building, which was designed by architect Robert Wengle, with interior design by Marlene Card and landscape design by Mark Pettes, was to create a modern take on the era of Muskoka's grand hotels. It houses 150 units with one, two and three-bedroom layouts and was built at a cost of $60 million.
Charles Waterhouse's great-grandchildren, siblings Bob and Sally Waterhouse, and Bob's sons Brandon and Ryan were present for the ribbon-cutting. Bob thanked Skyline, the company that now owns Deerhurst, for "allowing the legacy of Deerhurst to endure."
TriMuskoka launches fundraising for public outdoor exercise stations
Since its inception, Muskoka's triathlon club, TriMuskoka, has promoted healthy, active lifestyles for everyone. That mandate is reflected in its annual triathlon event, the TriMuskokan which emphasizes personal challenge more than competition. And it's the basis for the club's latest initiative, the MSCLE Project (Movement for Strength, Conditioning, and Active Lifestyles for Everyone).
It's a multi-phased project which aims to get people moving by installing easily accessible outdoor fitness equipment.
The project will include stand-alone park-bench fitness stations, body-weight open-air plyometric and calisthenic gyms, a parkour-style obstacle course, and aerobic workouts to link all of the movement equipment together.
The club began fundraising at this year's TriMuskokan – as a non-profit, all of the proceeds from the event are directed to a local cause – and will require between $250,000 to $350,000 to bring the project to fruition. Donations can be made at trimuskoka.com/events/the-mscle-project/.
Artists of the Limberlost offer a peek into their studios
Some of the joy of making art is in sharing it with others. And not just the art itself, but the way in which it was made. It's one of the reasons studio tours are so popular with artists and art fans alike.
The Artists of the Limberlost Summer Studio Tour got its start 13 years ago. Many of the artists who participated in the inaugural tour, which features studios along the Limberlost Road corridor, to the east of Huntsville, were part of the long-running Muskoka Autumn Studio Tour.
Brian Markham, who has been on the Artists of the Limberlost tour from the beginning, said the artists felt it would be more effective for them to have a smaller tour with just a handful of studios, and to invite guest artists to join each of them.
"Because it's geographically such a small area, people can see a broad range of artistic formats in a short time," said Markham. Visitors to the studios can see the space where each of the principal artists work and can learn more about the artistic process of both the principal artists and their guest artists. And, "it's a beautiful drive up and down Limberlost Road," added Markham.
The 2019 tour included six studios and 18 artists. New this year were the studio of painter Peggy Bell and guest artists Terri Howell at Bell's studio, knifemaker Craig Henshaw at Danielle Goulet's studio, and fibre artist Pam Carnochan at Brian Markham's studio.
Learn more about the Artists of the Limberlost Summer Tour at artistsofthelimberlost.ca.
Provincial infrastructure pilot to help municipalities deal with extreme weather
With two "hundred-year floods" occurring in less than 10 years, municipalities in Muskoka, and others like them across the province, need help to deal with the aftermath and prevent the devastating effects of extreme weather in the future.
In June, the provincial government announced a pilot program – the Municipal Disaster Recovery Assistance (MDRA) program – which will provide financial assistance to eligible communities that face extraordinary emergency response and repair costs after a natural disaster, and will help them build infrastructure that can withstand such extreme weather events.
"This spring we saw the devastating effect of flooding in many Ontario communities," said Steve Clark, Minister of Municipal Affairs and Housing. "We want to help municipalities build back better – to flood damaged roads, bridges and other infrastructure to a higher standard, so it can better withstand extreme weather and we know that some municipalities have limited financial resources to improve local infrastructure. By not having to rebuild the same washed-out road or bridge again and again, communities will save money over the long-term."
MPP Norm Miller noted that as part of the $1 million pilot project, the province will provide municipalities that qualify for MDRA funding with up to 15 per cent above the estimated cost of rebuilding damaged public infrastructure to make it more resilient to extreme weather. Examples could include raising roads to provide better overland flow of water, improving the columns or footings of bridges, or increasing the size of ditches and catch basins to increase their capacity to hold water.
Communities that were affected by spring flooding that occurred after March 1, 2019 are eligible for the enhanced funding under the pilot.
 Increased access to high-speed internet creates greater opportunity for business growth
As Muskoka becomes more connected, particularly in its more remote areas, the opportunity for businesses to expand to the area – and for both year-round and seasonal residents to work remotely – increases as well.
A prime example was announced on July 8 when Muskoka Futures announced the winner of its inaugural Muskoka 4.0 Investment Competition.
The competition offered a $250,000 investment to a new and emerging business already in or willing to locate in Muskoka.
"The goal of this investment is to help spur diversity in our local economy and to showcase that many forms of business can exist in Muskoka," said David Brushey, executive director of Muskoka Futures in a media release. "With our broad access to 1gig technology making internet connections more stable, doing business on a global scale from Muskoka is easier than ever."
The inaugural investment opportunity was awarded to Rolldog, a CRM (Customer Relationship Management) software application for sales organizations. Rolldog co-founder Craig Crawford said the company plans to open a corporate office in Bracebridge and will hire key people to fulfill executive, support, sales and professional services roles as it grows.