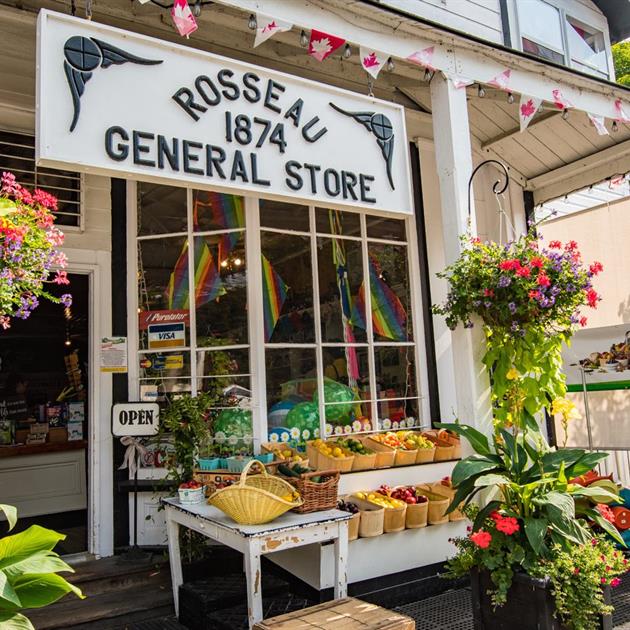 THE GENERAL STORE – A FOCAL POINT OF COMMUNITY LIFE
Article by Meghan Smith / Photography by Andy Zeltkalns
The local general store has been a focal point of community life in the villages and hamlets of Muskoka ever since the very earliest days of settlement. From humble beginnings as outposts, general stores now serve small or rural communities by offering a wide variety of goods and services.
While retail operations and the shopping experience have evolved throughout the world, many small communities within Muskoka continue to enjoy this one-stop shopping experience, reminiscent of those pioneer years.
Most of the general stores throughout Muskoka boast long histories, whether passing through various owners and operators or remaining in the same family for generations. The small settlement of Beaumaris, located on Tondern Island and connected to the mainland by a bridge at Milford Bay, boasts one of the oldest shops in the Muskoka area – Wilmott's Store.
Opened in the 1870s by John Harry Willmott, the store's success and long-standing attraction was aided by Beaumaris being an important transit point, now and during settlement. During the steamship era, travellers sought the Beaumaris Hotel, or made a stop at Beaumaris on their way to other hotel destinations throughout the Muskoka lakes.
Today, tourists and cottagers alike continue to frequent Wilmott's Store as they travel to and from their summer destinations, or even as they are out cruising on the water for the day.
In the Lake of Bays area, Miss Nelle's Café and Antiques and Robinson's General Store both have long histories of being integral community businesses. Miss Nelle's was originally operated as Langmaid's store by William Langmaid but Nell Connelly worked at the shop beginning when she was 18 years old, following her move to Baysville from Bracebridge. Miss Nell purchased the building in 1966 and ran it as a store for many years. After selling the shop, Miss Nell continued to visit and reminisce with locals and cottagers, alike. 
"The distinct history and the fact that it's a heritage building are a big draw," shares Karen Papadopoulos, owner of Miss Nelle's. "We ensure all of the staff know the history, so when they're serving a sandwich to a customer on the patio they can share that it was Miss Nell's favourite view of the water, right in that spot. And good coffee. That's a big deal, too."
Papadopoulos and her husband bought Miss Nelle's six years ago. After cottaging in the Lake of Bays area for over 14 years and enjoying regular visits to the store, they could not pass up the opportunity when the store was for sale. While they've invested in new furniture and ensure that all of the items they sell are within a 100 kilometre radius of the shop, the building holds its charm from days gone by. Miss Nelle's, as it is now, sells antiques, locally made goods and merchandise, as well as operating a café with coffee, sandwiches and baked goods.
Located by the bridge on Main Street in Dorset, just off of Highway 35, Robinson's General Store has been owned and operated by the Robinson family since 1921, with four generations of family involved. In the beginning, as a 1,200 square foot traditional general store, the clientele was made up of those in the logging industry and locals.
Through years of uncertainty, the store survived. Following the Second World War, much of the land surrounding Dorset owned by the province was made available for sale and the area grew quickly as lots were purchased. In 1950, a first addition was constructed for Robinson's General Store. Throughout the years, fifteen additions have been made to grow the store to over 15,000 square feet of retail space. The original 1,200 square foot building is still intact as part of the dry goods section of the store, as evidenced by the tin ceiling.
"We couldn't have had a store like this back when I was a kid," says Brad Robinson, son of Harry and Marguerite Robinson, the first generation owners of the store. "It's really four stores in one – Food Town for groceries, Home Hardware for tools and other home renovation items, a men's and women's clothing shop and a gift shop."
While the store has expanded, the atmosphere remains as close to the original, old-fashioned general store as possible, offering everything one could need for a weekend away or to renovate a summer home. People, who have never been to the store before, enter and stare at the birch bark canoe and the biggest fish caught in the Dorset area hanging on the wall.
"It's fun to shop here," shares Robinson. "It's a convenience, too. We've grown to meet the need and the demand so people didn't have to travel so far to get their necessities."
Cottage-based communities, such as those in Lake of Bays, Milford Bay and Rosseau, have little in the way of shopping aside from their general stores. Every aspect of the cottage or camping experience is covered by a visit to a general store.
Directly off of Highway 169 in Glen Orchard, next to Butterfly Lake and at the crossroads of many destinations in Muskoka is the Glen Orchard General Store. The store serves as a place to fuel up, purchase supplies, order take out or even purchase a new barbecue.
A general store creates a feeling of stepping back in time, reminiscing days gone by or childhood memories, without having to give up modern day convenience.
Bent River General Store, on Highway 141, offers a shopping experience for those staying at the Bent River Campground, as well as a stopping point for those headed to Skeleton Lake, Windermere or anywhere in between. A gas station along with a café and store, Bent River General Store's quaint interior is filled with homemade treats, basic necessities and specialty items. Purchased by Edward and Yolande Pacan in 2003, the Bent River General Store's fun and family-friendly atmosphere keeps campers and tourists coming back each year.
In the past, general stores offered full services. Customers would deliver a list of requirements and store employees would prepare packages to be picked up. How customers shop may have changed with self-serve becoming more prevalent, but general stores maintain a connection to their roots while at the same time providing a niche shopping experience.
Opened in 1997, Silver Stream Farms Market focuses on farm fresh produce and locally grown products from the Muskoka region. Right near the oldest swing bridge in the province, bridging the canal connecting Lake Rosseau and Lake Joseph, the market is an opportunity to source essential summer fare for the home or cottage.
In March 2017, Laurie McDonald and Brian Dollin purchased the Rosseau General Store, following their dream of operating a store located in a heritage building. Rosseau General Store, opened in 1874 by Jerry Homer, has changed hands multiple times, but has continuously served the Rosseau community since its inception. Located at the corner of Highway 141 and Rice Street in Rosseau, the Rosseau General Store remains an attraction and a mainstay within the community. Their six-person winter staff blossoms to 30 employees as cottagers and tourists arrive. 
Travelling to the family cottage, or even to an annual rental property, would not be complete without a stop to the nearest general store. Often the "are we there yets?" from children en route to a cottage or vacation destination are halted only by arrival at a landmark general store.
Childhood memories of summer usually include at least one, if not many, stops for ice cream, while mom and dad purchased all the necessities for the picture-perfect cottage experience.
Just a short walk from Port Sydney Beach, on the southern edge of Mary Lake, Jamieson's General Store stocks everything needed for a summer picnic including homemade pizza, locally-made butter tarts and cookies, ice cream, meat and eggs and light groceries.
What most people remember, and love, about general stores is the vast array of goods. Visiting a general store provides more than a place to purchase basic necessities. There is an attitude and an atmosphere in every general store that provides an experience in local culture that cannot be found elsewhere.
Over 12 years ago, Debbie and Scott Nicholson purchased McNic's Corner Store in Minett from Debbie's sister and brother-in-law. The family business has been in operation for over 30 years as McNic's and was open for many years before that as the Lone Star.
The Nicholsons identified a need for staff at the local marina, golf course, resorts and other tourism-based operations to have a place to get a meal, a coffee or other necessities. For tourists and cottagers, they wanted to provide a place to purchase everything from fishing tackle to ice cream, grocery to local meats from Stephen's Butcher shop, local honey and local maple syrup.
"It's the atmosphere," shares Debbie Nicholson. "People can stay at their cottage or home, and still purchase the things they need in a friendly atmosphere. We're a place where people can be how they feel. They're here to relax and have fun and so are we."
People are a meaningful part of the experience at general stores throughout Muskoka. Robinson's General Store employs about 10 people year-round but that number increases to 60 from May through August, thanks to an influx of students looking for work in the summer.
"The best compliment I have ever had was when I was introduced as 'the man who put me through university' by a former employee," shares Robinson. "The summer job we gave him helped him save for and attend university but we couldn't run the store in the summer without the students from high school, college and university."
"We try to strike a balance with having locals and cottagers on staff so we can cater to all of our customers," says Papadopoulos. "Last summer, my daughters and nieces were working there along with locals. We're all very involved in the business and want it to stay a destination, year-round, for locals and cottagers."
Seasonal residents who return, year after year, become familiar faces and each spring is a homecoming. Customers return to their local general store by car or by boat, to catch up with friendly faces and fill their grocery bags.
"There are locals you know all the time but you get to know the summer staff and the new faces," says Nicholson. "You get to know them and sometimes we see these kids every day. It's hard to say goodbye at the end of the season."
Each general store offers its own unique experience, providing a glimpse into the past and all the amenities of the present. Whether you need to send a letter, forgot your toothbrush or need fresh produce, meats or other dry goods, general stores throughout Muskoka take care of all of the needs of your home away from home.
A general store creates a feeling of stepping back in time, reminiscent of days gone by or childhood memories, without having to give up modern day convenience.