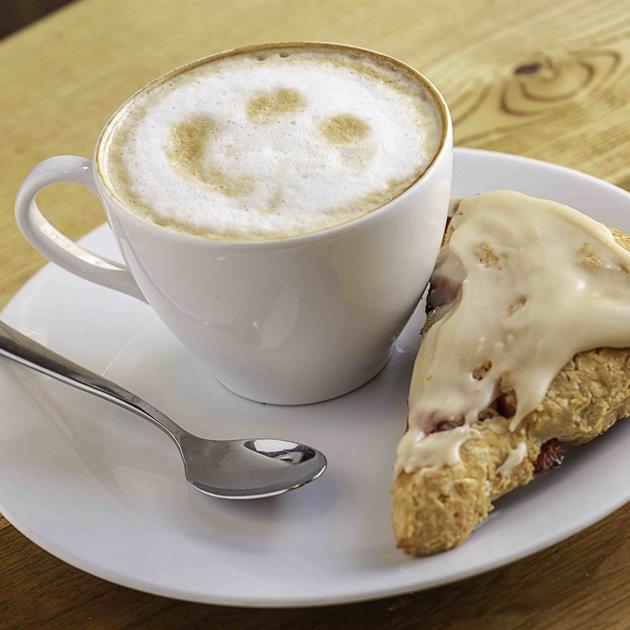 THE GREAT CANADIAN MAPLE MEAL
Article by Karen Wehrstein / Photography by Tomasz Szumski
The sap has run, the syrup making is done and true Canadians, strong and free, want to celebrate our glorious golden bounty of sweetness in every way. How about a meal with every component graced by its presence?
To help you recover from winter, we'll start off with a lovely warming soup as appetizer, courtesy of the Pasta Shoppe in Bracebridge and the delightful young couple who own it, Adam Palubiski and Stephanie Dunn. Along with its sister business Beat the Wheat, it's a one-stop shop for pasta, baked goods, take-away meals, sit-down meals, catered meals and everything else both gluten-free and tasty.
Roasted Sweet Potato and Parsnip Soup is Palubiski's recipe, created especially for 
Unique Muskoka
, though he tried it out on an event he catered, shortly before time of writing, to rave reviews.
"The heavier root veggies are good when it's still cool out, and have a natural sweetness that goes well with the maple syrup," he says. "I like using sweet potatoes, as they're not overly starchy and give good texture. The cumin and cinnamon adds spiciness and the ginger gives it a little heat. Seasonally, it's great for between winter and spring. The snow's just melted, so you want that warmth but it's spring, so you want the sweetness of maple, and all those flavours go together nicely."
We shall return to the matter of blending flavours.
For now, according to my tastebuds, Palubiski is right on all counts. This thick, rich, warming soup is something of a paradox – is it savoury or is it sweet? It has the tang of parsnips and meatiness of garlic foiling the sweetness of sweet potatoes, maple syrup and onion. Spices from distant climes give it a soupçon of the Middle East. You could also compare it to that fall staple, pumpkin pie (and related soups) as a similar spice/starch combination is created. The allium factor gives this soup greater complexity and depth. The addition of the cream adds richness, though of course it can be omitted for a dairy-free portion.
Now let's proceed to our main dish, which was first served at the Muskoka Maple Festival in Huntsville and at the Muskoka Maple Trail all over the district three years ago. Selling out in record times was Charred Pork Back Ribs with Muskoka Maple Molasses Barbecue Sauce, created by Jeff Suddaby, the chef and owner of 3 Guys and a Stove.
In case you're curious, the name of this renowned Huntsville restaurant was conceived 35 years ago when Suddaby and several buddies were playfully inventing names for restaurants. When one of them said "3 Guys and a Stove," Suddaby wrote it down. The restaurant opened in May 1996 and yes, it was owned by three male partners, the other two of which have since parted ways.
"I don't call it work," Suddaby enthuses. "I play in the kitchen." Out of every 50 or so experiments, he says, he'll get several dishes that are good, and one that is great.
Chef's tips – oh, is this man a gold mine for chef's tips. He gave me more than could ever fit in this space, even the secret of how 3 Guys' breaded calamari is always tender, which I will not divulge. I will, however, pass on his lesson on the three grades of maple syrup and their uses.
The lightest syrup, produced at the beginning of the sap run, is ideal for savoury dishes. The middle-of-the-season golden-brown syrup, at peak sweetness and favoured by supermarkets, is ideal for pancakes, waffles and such applications. Finally, the dark, less-sweet late-season syrup is best for baking.
The maple-inspired rib recipe contains the secret of meat-falling-off-the-bone tender ribs: a long slow braise in a hot oven. "It keeps them moist as well," Suddaby says, a needed step for meat with little fat.
"I like a real robust sauce, so I added the molasses to take a little of the sweetness out of the maple. It gives it that richness," he says, noting that he gets his syrup from Bill Hubbard of Sundridge. The use of hickory smoke was inspired by his time spent studying traditional Louisiana cuisine on location with Chef Prudhomme and others.
Why is the sauce cooked for half an hour despite ingredients that don't need that much cooking? "To cook the flavours together," Suddaby explains. "Creating those blended flavours, that's the key." That last step of baking the sauced ribs is for the same purpose, to marry the flavours of sauce and meat into an inextricable whole. "That is crucial," he advises.
The result is a sticky, smoky, sweet and sour, tender, juicy and charred delight that does indeed fall off the bones and has you licking your fingers thoroughly. If you can't be bothered to make the sauce, you can buy it bottled at 3 Guys.
Suddaby has some interesting ideas for side dishes to go with the ribs, such as salt and vinegar potatoes (poke holes in skins, marinate 4-5 hours in cider vinegar, throw in a little sea salt and bake in foil) or corn on the cob marinated in tequila and lime juice (4-5 hours, grill in its husk).
The wine must be robust, obviously, to stand up to the flavour explosion that is these ribs, so Chef Jeff suggests a Californian or Australian cabernet. Or if you want to go completely maple and stay totally local, you could… no, let's save this idea for dessert.
If adding a salad, you might want to visit Yummies in a Jar in Baysville to pick up one of two dressings, which contain syrup from Mark's Muskoka Maple near Huntsville. Balsamic & Maple Oil-Free Vinaigrette is just what it says it is, and a relatively new addition to Lynn Murden's vast line of innovative products that has become one of the most popular.
Muskoka Maple Oil-Free Vinaigrette, a Yummies staple for 15 years, combines the syrup with cider vinegar, local cranberries from the Iroquois Cranberry Growers near Bala and certain herbs. It was originally inspired by and created for – to come full circle – 3 Guys and a Stove.
For dessert, we will return to the Pasta Shoppe, where Stephanie Dunn boasts that if you taste her desserts without knowing they are gluten-free, you still can't tell. To test this claim I nibbled one of her Muskoka maple butter tarts, which have gained such fame they are hitting the shelves of fine stores across Muskoka. It has just a hint of maple, melts in your mouth and does have a crust that tastes subtly like wheat.
However dessert for today's meal will be a Maple Cranberry Scone. Dunn's starting point when creating recipes is asking her customers "What's something you're missing since going gluten-free?" A number of them replied "a good English scone." Dunn tweaked the recipe until the texture and flavour were right, and the rest is history. Same as the butter tart, you'd swear you can taste wheat, and the syrup and icing sugar glaze is a delicious touch of decadence. If that's not decadent enough for you, whip up some whipping cream enhanced with maple syrup to taste. Dunn also gets her syrup from Mark's.
To pair with scones on a cold May day, try any of the Pasta Shoppe's three hot maple bevvies: Masala Maple Chai, Muskoka Maple Fog, and the classic Maple Latte. When nibbling on a hotter day, you might add the wine we began to suggest earlier: Red Maple Dessert Wine by Muskoka Lakes Winery, which is located on the same property near Bala as the famous Johnson's Cranberry Marsh. This wine is best served chilled and – just like the scones – performs the succulent dance of opposites by invoking the sweetness of maple syrup and the tartness of cranberries both at once.
But there's another drink capable of accompanying this maple meal throughout, in the tradition of sparkling waters but with a special twist. Who'd have thought of taking the sap from maple trees and, instead of boiling it down into syrup, carbonating it lightly and putting it in a can? Todd Croxall of Croxall Foods in Huntsville, that's who, and the product is named, appropriately, Tapped. He explains simply, "This stuff tastes really good. Why wouldn't anyone drink it?"
It's not quite so simple, in truth; to last the desired 18-month shelf life, the sap has to be treated via special technology. The idea came to him in 2015 but the method was not perfected until last year. When you sip some, the carbonation hits you first, but lightly; then there's an ever-so-delicate hint of maple. "It's good for mixing, for people who like club soda as a mixer," Croxall advises.
The original Tapped is already in stores; look for ginger-flavoured Tapped soon and vanilla-flavoured Tapped later in the year.
Life doesn't get more maple than this.
Roasted Sweet Potato and Parsnip Soup
Adam Palubiski, The Pasta Shoppe
by Beat the Wheat
Ingredients
3-4 large sweet potatoes, peeled and
cubed
4-5 medium-sized parsnips, peeled
and cubed
1 large yellow cooking onion
1 clove garlic, minced
¼ cup pure maple syrup
½ tsp ground cinnamon
½ tsp ground ginger
½ tsp ground nutmeg
1 tsp ground cumin
4-5 sprigs fresh thyme
4 Tbsp cooking oil
½ cup heavy cream
4 cups vegetable stock
Salt and pepper
Method
• In a large mixing bowl, combine cubed sweet potatoes and parsnips with 2 Tbsp cooking oil, maple syrup, cinnamon, ginger and nutmeg. Toss until evenly coated.
• Preheat oven to 375 degrees F. On a large baking sheet, spread tossed items evenly and bake in oven for 25 minutes or until golden in colour and aromatic. When done, put aside.
• Heat 1 Tbsp of cooking oil in a medium-sized pot. Add onion and garlic and sauté until translucent and fragrant. Add roasted vegetables and vegetable stock (if needed add a bit of water to make sure vegetables are covered).
• Cook until vegetables are soft enough to break apart with a fork.
• Using a blender or food processor, purée soup until smooth. Add water to desired thickness.
• Season with salt and pepper to desired taste.
To serve: add hot soup to a bowl, drizzle heavy cream on top and garnish with fresh thyme (optional).
Muskoka Maple Barbecue Pork Back Ribs
Jeff Suddaby, 3 Guys and a Stove
Prep time: 3 hours 20 min.
Serves four.
Ingredients
2 lbs. pork back ribs (2 full racks)
2 Tbsp pickling spice
Muskoka Maple BBQ Sauce
1 6 oz. can tomato paste
¼ cup Muskoka maple syrup
¼ cup molasses
2 Tbsp cider vinegar
½ cup water
3 Tbsp brown sugar
2 drops hickory smoke
1 tsp mustard seed
1 tsp salt
1 tsp corn starch
(mixed with ¼ cup water)
Method
• Preheat oven to 425˚F.
• Cut both racks of ribs in half, place in a roasting pan, cover them in water, add 2 Tbsp pickling spice, cover with aluminum foil, and bake for 2.5 hours.
• In a pot, add all remaining ingredients except the corn starch mixture.
• Whisk together and heat slowly. Right before boiling, add cornstarch mixture, and cook on low heat for 30 minutes, then set aside.
• Remove ribs from oven, and grill racks on both sides on a preheated barbecue till charred.
• Once grilled, place ribs in a cast iron pan, place pan on grill and pour Muskoka Maple BBQ sauce over ribs
• Close barbecue lid and allow sauce to caramelize onto ribs (10-15 min.).
Enjoy!
Maple Cranberry Scones
Stephanie Dunn, The Pasta Shoppe
by Beat the Wheat

Ingredients
2 cups all-purpose gluten-free
flour mix (or all-purpose flour)
3 ½ tsp. baking powder
1 tsp. salt
½ tsp. xanthan gum
¼ cup sugar
½ cup fresh or frozen cranberries
86 g. chilled butter - 1/3 cup,
cubed
1/3 cup buttermilk
1 egg, beaten
Maple syrup (to brush over scones
before baking)
Method
• Pulse dry ingredients in a food processor for 30 seconds.
• Add cubes of butter to the food processor with the flour mix, pulse 10 times
• Mix together buttermilk and egg in a liquid measuring cup, slowly but continuously add into the food processor, blend to a soft dough. Add cranberries. Pulse three times to mix them in.
• Scoop dough onto a floured silicone mat or baking sheet lined with parchment paper, sprinkle dough with flour and form into a
1- inch thick disc.
• Cut disc into six pieces.
• Brush with maple syrup.
• Bake at 350 degrees F for 10 minutes or until lightly golden.
Glaze
1 Tbsp maple syrup
1/3 cup icing sugar
• Add maple syrup to icing sugar, mixing with a spoon until well-blended and smooth.